Top 12 Things To Do In Bali
BALI – THE ISLAND OF GODS
With its eye-soothing green spaces, emerald forests, stunning beaches, beach side luxury hotels, rich wildlife, hillside temples and towering volcanoes, Bali marks as one of the most instagrammable Islands in the world. Not just that, Bali is deep-rooted in culture and is popularly known as the Island of Gods. The more you explore Bali, the more you want to explore. There is no limit to the amazing experiences the Island offers. Here is just a list of 12 that you should not miss on your trip to Bali.
1. Bali Hai Sunset Cruise
This experience is on top of my list while talking about the best things to do in Bali. Bali Hai combines the experience of sailing on the restless ocean waves, watching the most spectacular sunset of your life, sumptuous Balinese food and entertaining live performances on board. Every penny spent on this cruise is worth it.
For more details about this experience, check out my post, 'Bali Hai Sunset Cruise'.
2. Tanah Lot Temple
A temple in the middle of the sea is obviously a worth visit place. In Balinese, the word Tanah means Earth and Lot means Sea – quite an appropriate name considering its spectacular location on top of a rock overlooking the vast sea. The temple looks like a little island. The sea waves crashing against the walls of the temple is a treat to watch.
Entrance to the main temple is opened to the Balinese people only. Visitors are not allowed there. However, there is a small cave like temple under the main temple where the visitors can pray and seek blessings. You need to cross the sea waves by foot to reach this place. Tanah Lot is also famous for its amazing sunset. Take a seat by the beach or on a rock near the sea and enjoy the sun going down the horizon, while listening to the background music of the waves crashing against the rocks.
3. Kecak Dance at Uluwatu Temple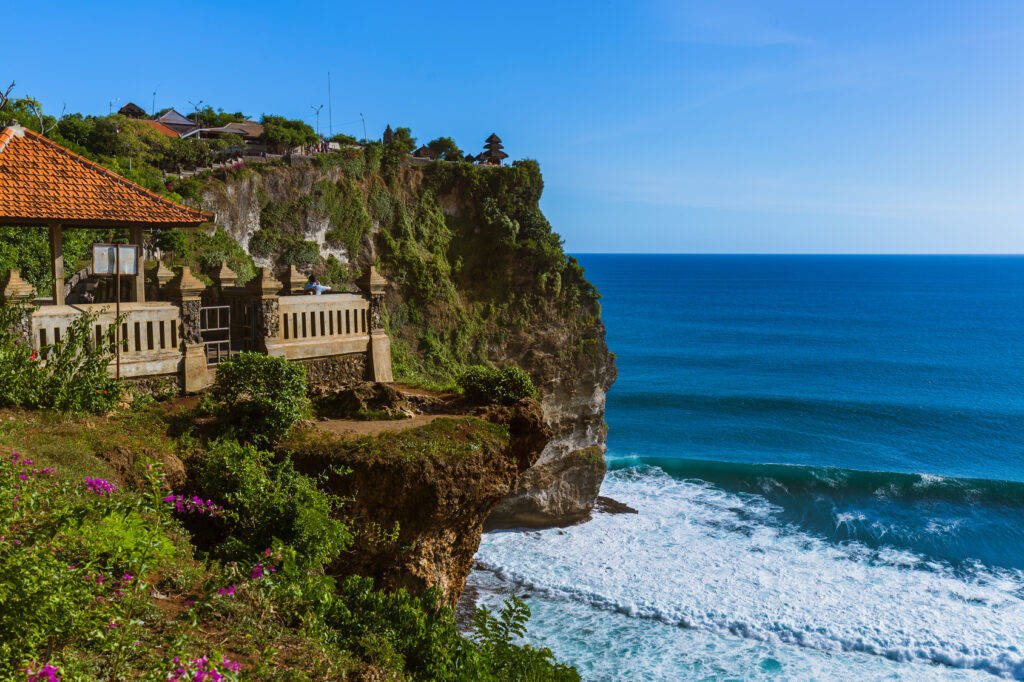 Located in the southern tip of Bali, Uluwatu Temple is famous for its magnificent location. It is perched atop a steep cliff, approximately 70 metres above the crashing ocean waves below. It is also another beautiful location to watch a jaw dropping sunset. The temple is one of the ancient Hindu temples is Bali and is much revered by the locals.
Every evening after the sunset, the famous Kecak and Fire dance performances are held at an amphitheatre, playing various scenes from Ramayana. The dance is performed by a troupe of more than 75 male dancers, chanting in chorus. Amazing views of the ocean, hypnotic sunset and the very entertaining Kecak and Fire Dance – all that Uluwatu temple offers and all that you should not miss.
Note: There are lot of notorious monkeys in and around the temple. So, please take care of your belongings.
4. Goa Gajah Cave Temple
Goa Gajah means Elephant Cave. It must have derived its name either due to its close proximity to the Elephant River in Ubud Village, or owing to the stone statue of Lord Ganesha in the cave who is characterised bearing an Elephant head.
I Found this place quite mysterious and equally fascinating – well.. owing to my love for peculiar places! It's menacing entrance looked like a demonic mouth, a feeling of entering an under world and venturing into the dark to find some mysterious stuff.
But that's not how it is. As you enter the cave and walk through its dark, narrow passage, the cave ends abruptly at an intersection where there are two places of worship. A small niche at the left passage is dedicated to the statue of Lord Ganesha and the right passage had a small worship area with several stone Shivalings, dedicated to Lord Shiva.
The origin of the cave dates back to the 11th century and there are many stories related its origin. One tale relates that it was created by the fingernail of the legendary giant Kebo Iwa. A leading one suggests that the cave was used as a Hermitage for ancient Hindu priests who dug the entire cave by hand.
A lot of relics are with unknown origin lie in the courtyard area. There are two holy water pools outside the cave, where the devotees take dips while performing their religious rituals. If you wish to explore the place further, there is a steep climb with a long flight of stairs that will lead you to shady valley, waterfalls, ancient stones with carvings on them and a crumbled Buddhist temple.
Entrance fee for Goa Gajah is approximately $1.15. There is a dress code to visit the temple. Your knees should be covered and this applies to both men and women. Sarong on hire is also available here. Goa Gajah is open seven days a week from 8:00 am to 4:30 pm.
5. Holy Monkey Forest
Now, this experience is pretty much unique. Located in the Ubud village, the holy monkey forest is a home to over 700 Balinese Long-tailed monkeys. The forest is known for its monkey conservation effort, where studies and research is conducted for observing monkey's diet, health, behaviour and breeding habits.
Watching these playful animals in their natural habitat is quite amusing. You'll find them everywhere around you swinging on the trees, eating bananas and peanuts, teasing and playing with each other and sometimes even trying to steal your belongings. The staff here saves you from all this trouble, even getting your belongings back from the monkeys.
We hired a guide here who walked us through the forest and educated us about the research conducted here, as well as how to politely deal with the monkeys. The Holy Monkey Forest is lush green and dotted with various enigmatic ancient statues. Some of the spots in the forest felt quite spooky, like the roots of a huge Banyan tree hanging over a shadowy dragon staircase. But it's an equally interesting picture perfect spot.
Our guide helped us getting clicked with the monkeys. Though it was scary as the monkeys would climb up your shoulders or sit on your lap, but it was fun and we created memories for life. As our guide rightly said, you are not allowed to touch the monkeys, but they can touch you. 🙂
The entry fee to the forest is 150 INR for children between 3 to 12 years of age and 200 INR for an adult.
6. Coffee Plantations
Coffee plantations in the Ubud village combines a refreshing experience of knowing about various spices, plants and Luwak Coffee making process, as well as tasting a variety of tea and coffee types. All coffee and tea lovers would surely enjoy this experience.
To know more about coffee plantations, check out my post 'Coffee and Tea Tasting in Bali'.
7. Rice Fields
Rice is a major staple in Bali and they grow lots and lots of it. You'll find a number of paddy fields dotted all across Bali. Tegalalang paddy field is one of the major tourist attraction and is one of the top 12 places to visit in Bali, if you love green spaces and willing to do a lot of walking. The rice terraces offer extremely scenic lookouts over the rice fields and the surrounding green landscapes. You'll see hues of green all around you. The best time to visit the rice fields is early morning to avoid the afternoon heat. A small entrance fee of approximately 60 INR is charged to enter the fields (carrying change is recommended).
8. Ubud Craft Villages
There are four largest handicraft villages in Ubud, that are well known for their craftsmanship in different fields. You can book this traditional handcraft tour separately, or it can also be combined with your other activities on the Ubud tour. These four villages and their crafts are:
The Tohpati Batik village is famous for Batik Weaving Centre. Batik is a traditional wax painting.
Celuk village is known for its gold and silver used in jewellery making.
Mas Village is famous for its wood carvings.
Batuan village is a home of artisan painting.
The craftsmen will explain the process of making these handmade goods. You can buy anything you like in these workshops, there's no compulsion though. If you like exploring small villages and curious to know their traditional life, this tour is a must-do for you. As for me, I always like exploring new things, so I loved it!
To know more about Ubud village, check out my post 'Glimpses of Ubud Village'.
9. Devdan Show
Devdan show is a great way to know Balinese culture while enjoying their local dances and music. The show is an incredible blend of dazzling illusions, water and fire acts, heart-pounding aerial acts, modern hip hop and traditional folk dances, and amazing light and sound effects. Devdan Show is an award winning production on Indonesian culture and is a top rated show for visitors. The show is performed at the Nusa Dua Theatre. Ticket prices range between 1100 INR – 4000 INR, depending upon the seat category you select.
10. Kintamani Volcano
Kintamani Volcano or commonly known as Mount Batur is the last remaining active volcano of Bali. The volcano has erupted for about 24 times since 1800 and is still active. You can enjoy your lunch at a restaurant offering beautiful views of the valley and the volcano. Or, you can also go for a sunrise trek to see the volcano and its black lava from a close proximity.
11. Water Sports
If you are an adventure lover, water sports in Bali is something you simply don't want to miss. From old school activities to innovative water sports to exploring underwater world – Bali is quite innovative in offering choices. Some of these water sports include Rolling Donut, Fly Fishing, Kite Surfing, Windsurfing, Kayaking, Parasailing, Jet Skiing, River Rafting, Undersea Walk, Scuba Diving, Underwater Scooter and Snorkelling. Bali has a rich marine life and I highly recommend experiencing at least one underwater activity. You'll not regret your decision.
12. Balinese Spa
Spa has always been an essential part of my travels. I do keep that spare time for a spa or a massage when I plan my trips. I think it's important to pamper and heal yourself by taking these little breaks in between the normal routines of life. Balinese spa has its roots in its healing traditions. It is designed to revitalise one's body, mind and spirit. I recommend visiting a local spa centre for that deep rooted traditional Balinese spa. The essential oils, scrubs and other products used by these local centres are organic and manufactured in old traditional ways. It's not only cost effective, but also gives you an authentic experience.
I hope you enjoyed reading this post and already thinking of planning your trip to Bali. Please leave a comment below about your thoughts on this post.