Top 12 Things To Do In Mauritius
With its stunning white sand beaches, green lagoons, coral reefs, lush rainforests, rich wildlife, enthralling waterfalls and exotic food, Mauritius is truly a tropical paradise. Located at the south eastern coast of Africa, this volcanic Island nation is surrounded by warm waters of the Indian Ocean.
The swaying palms on the azure waters combined with the luxury of 5-star beach properties, set up a perfect romantic vibe. Hence, Mauritius is a favourite beach destination for many honeymooners. Not just that, owing to its adventurous water sports and hiking trails to the waterfalls, the island is also one of the favourite destinations for adventure seekers.
Whether you're looking for a romantic quality time with someone special, or some extra dose of adrenaline or just wish to soak in some laid back tropical vibes, Mauritius will never fail to amaze you. Here is a list of top 12 things to do in Mauritius
1. Seven Coloured Earth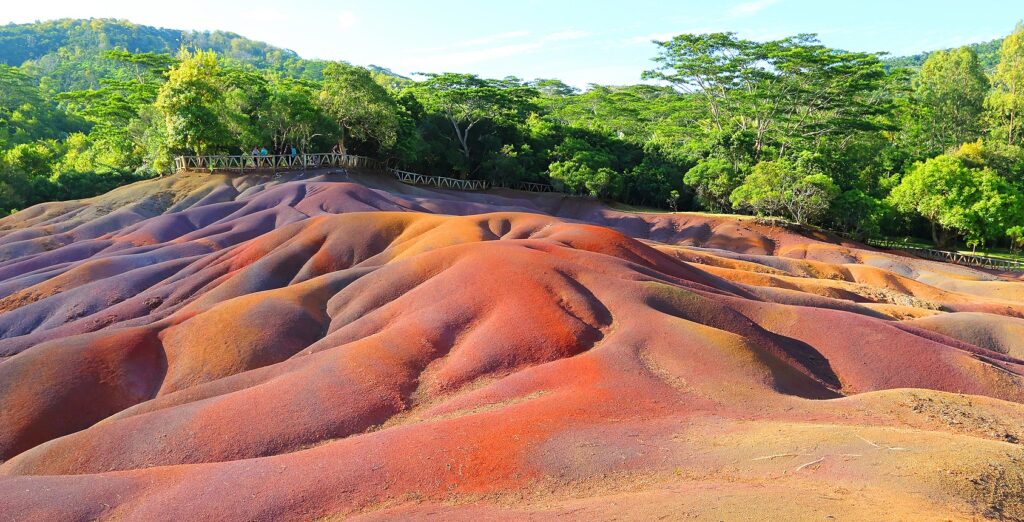 Seven coloured earth in Chamarel is one of the most iconic tourist attractions in Mauritius. It is a rare geological phenomenon where the dunes are formed in layers of different colours -red, brown, violet, green, blue, purple, and yellow. These colours don't mix with each other and it looks fake at a first glance, but it is not. It is a natural phenomenon that occurred due to volcanic activity years ago, bringing together the elements that have their distinct colour and chemical properties. The molten volcanic rocks cooled down at different temperatures. This explains how the clearly defined strips of various colours was formed.
2. Meet the Giant Turtles
The Turtle Park in Chamarel houses the last surviving species of giant turtles. They can reach upto 1 metre in length and weigh around 250 kgs. They have a lifespan of more than 150 years. The ancestors of these giants are believed to have existed with the Dinosaurs. The turtles are very humble and you can get pretty close to them and even touch their carapace as a gesture of love.
3. Trou Aux Surfs – The Dormant Volcano
Trou Aux Surfs is another major tourist attraction in Mauritius. Located at a height of around 608 meters above the sea level, this dormant volcano is around 100 meters deep and its crater has a diameter of around 350 meters. Trou Aux Surf erupted only once and is now dormant from the past 7.8 million years. However, experts believe that there is a potential chance for it to become active again. Standing on the crater of the volcano, you get panoramic views of the beautiful Curepipe town, glorious Rampart Mountain and the Port Louis Moka mountain range.
4. Ship Models Factory
The existence of the Ship Models Factory is rooted in the History of the Island. People poured in this tiny Island on ships and boats from different parts of the world. In this factory they manufacture the miniature version of the ships. All the products are handmade and a lot of labour is done to give perfect shape and detailing to this art. I was amused looking at the variety of ships they make. From the explorer vessels, pirate ships, warship models and schooner ships to sailboats, yacht boats, cruise liners and container vessels – they have it all. You can shop for these beautiful pieces of art at the factory, there is no compulsion to buy though. I bought a beautiful merchant ship enclosed in a clear glass box, that still adorns my living room.
5. Le Mourne Island
Le Mourne Island is one of the most beautiful Islands in Mauritius. Located behind the Le Morne Brabant Mountain ( which is classified as a UNESCO World Heritage Site), the island boasts of its rich flora and fauna. There are numerous amazing activities you can opt for on this Island. Relax on the beach and enjoy the calm waters of the sea while teasing on some deletctable cuisines from the authentic restaurants that line up the beach. Swim in the warm waters, go for scuba or snorkelling, Hike or take a boat ride to the waterfalls. Or simply enjoy the seaplane tour of the underwater waterfall. Although there are numerous hotels and restaurants near Le Mourne Island, the villagers here still live a simple life, living in wooden huts, fishing and enjoying little things of life away from the commercialised city world.
6. Trek to the Waterfalls
Marritius is a house to a lot of ravishing waterfalls. You can trek or hire a quad bike to reach them. Surrounded by nature's lush greens and rare flora and fauna, these waterfalls are a gateway of pure serenity. Some of the must visit waterfalls are – Tamarind Falls, Eureka Falls, Exil Falls, Rochester Falls, Alexandra Falls, Grand River South East and Underwater Waterfall. They all have a vibe of their own. I recommend you to visit at least two of them.
7. Le Caudan Waterfront
Le Caudan Waterfront is a cute, colourful and cultural destination in Port Louis, made for the visitors to enjoy little things of life. You can try the very famous Sugarcane Juice here. There's an art museum, a casino, the vibrant and picturesque umbrella street, lots of shops, food joints and coffee houses and a waterfront area. It is an attractive shopping destination for tourists as well as the locals.
8. Fort Adelaide
Fort Adelaide is a citadel originally constructed by the British to defend Port Louis from the French. Named after the Queen Adelaide, it stands proudly at a height of approximately 240 feet above the sea level in Port Louis, the capital city of Mauritius. The fort offers panoramic views of the city, with the Indian Ocean at the backdrop.
9. Mauritiuseshwarnath Temple
Mauritiuseshwarnath Temple is dedicated to Lord Shiva. It is believed to house the 13th Jyotirlinga, 12 of them being in India. There are 108 bells in the temple and each bell makes a different sound. The temple is surrounded by a big lake named Ganga Talao, used for holy dips and Kanwad festival. The route to this temple is also very scenic. A beautiful dose of spirituality, tranquility and nature – the temple is a worth visit.
10. Submarine
The submarine adventure in Mauritius is an experience of a lifetime. It is a trip to the mysterious waters of the Mauritian sea at a depth of 35 metres underwater while sitting in a real air conditioned submarine. You can catch glimpses of the rich marine life of the Island in their natural habitat. As the vessel sets sails under the blue waters, you pass by alive corals, colourful fishes of various species, turtles and a ship wreck. It's an approximately 50 minutes trip and the pilot educates you about the marine biology. At the end of the trip, you also receive an individual certificate signed by your pilot, certifying your submarine experience.
11. Sea Karting
Sea Karting is another amazing experience you should not miss in Mauritius. Quite an adrenaline rush, you get to drive this unique speed boat named Sea Kart at a full speed in the open Indian Ocean. You also get to stop at the crystal rock where you can dive, swim or snorkel in the emerald green waters of the lagoon. Full day and half day tours can be booked for this experience.
12. Sea Sports
Owing to its warm sea and rich marine life, Mauritius is adventure lovers paradise. From parasailing, jet ski and banana boat to glass bottom boat, scuba and underwater walk – the island offers various sea sports options. I highly recommend going for Undersea Walk, quite an incredible experience it was for me!