The Dream World of Ramoji Film City
Ramoji Film City is one of the best places to visit in Hyderabad. Spread over an area of 1666 acres, it is the largest studio complex in the world as certified by the Guinness World Records. It was established in 1996 by Ramoji Rao, a Telugu film producer and a media tycoon.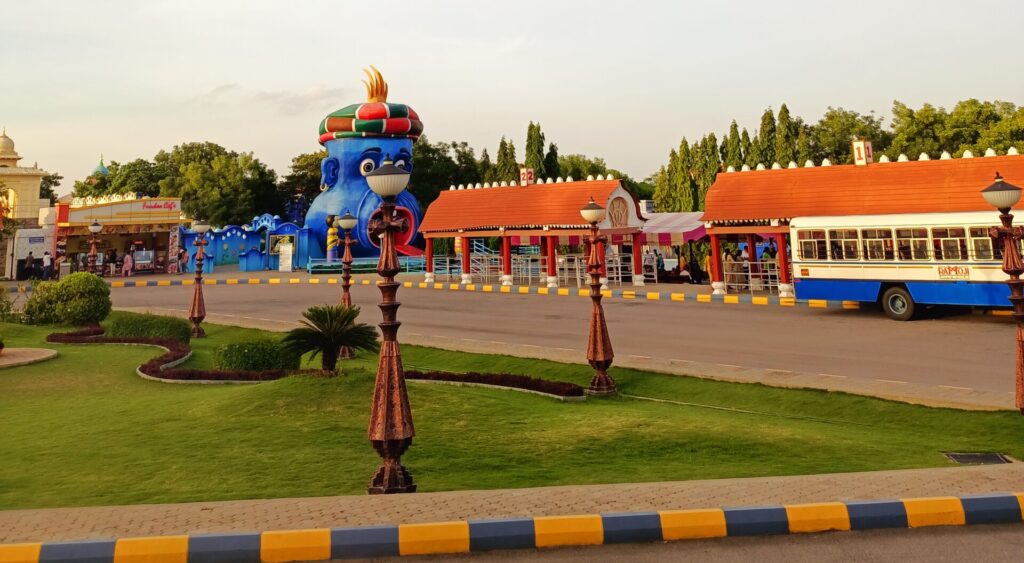 Ramoji dreamt of building a grand studio similar to that of Hollywood. He put in his heart and soul to create this beautiful dream world of Ramoji Film City. He described it as a 'city within a city'. The city houses permanent sets of temples, railway station, airport, apartment blocks, mansions, workshops, kitchen, parks and even sets of international locations. About 400-500 films are shot in Ramoji Film City every year.
The film city has been a shooting place for many Bollywood movies like, The Dirty Picture, Krish 3, Dilwale, Ra One and Chandramukhi, as well as the Hollywood productions Beeper and Quicksand. It is a prime location for almost every Telugu project.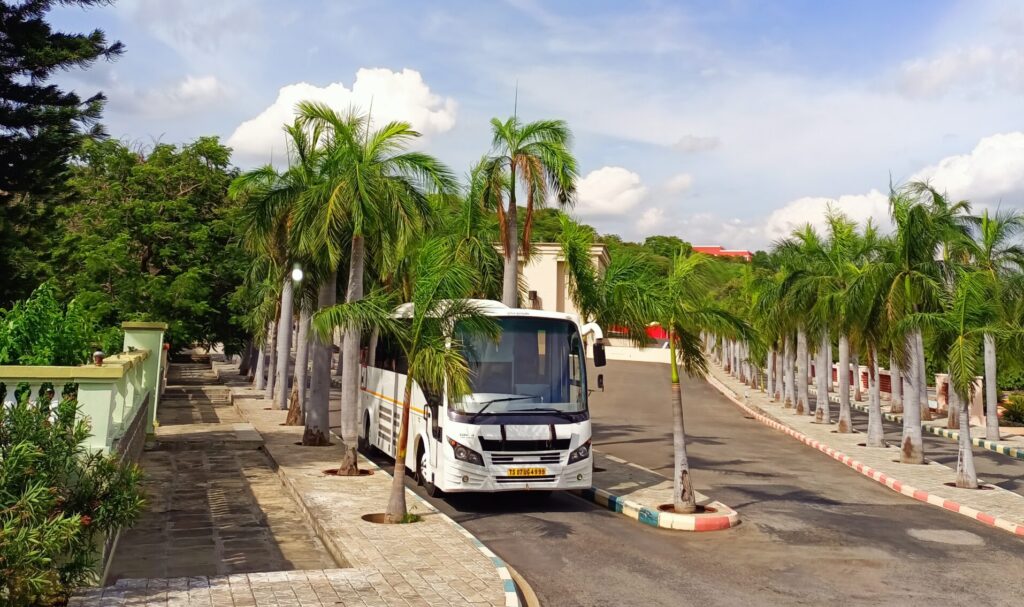 Ramoji Film City is not just a workplace for film shooting, but also one of the best theme parks and amusement parks in the country. Tourists are warmly welcomed here and there are specially designed packages for them to explore the film city and get a first hand experience of these shooting locations. Not just that, there are various interesting rides, spectacular shows and live performances to keep you entertained throughout the day. Around 1.5 million tourists visit Ramoji Film City every year.
Since the film city is spread over a large area, it is easy to hide shooting spots and restrict the tourist entry to those sites. So, you may not see any live shooting during your trip.
Package, Price and Duration
You can select from their 'Studio Tour' package and 'Star Experience'. The prices are mentioned below:
Studio Tour:
Adult – 1350 Plus Taxes
Child – 1150 Plus Taxes
Star Experience:
Adult – 2549 Plus Taxes
Child – 2349 Plus Taxes
'Studio Tour' is the basic package and it would be a trip in a non-AC vintage bus.
'Star Experience' entitles you for a trip in an AC coach, express entry to various shows, a privileged chocolate box, complimentary tea/coffee and a buffet lunch in an AC restaurant.
The duration of both the tours is from 9:00 am to 5:30 pm.
Wear comfortable shoes and carry a water bottle. We have a lot to explore today. Let's start our journey.
Our Journey
We opted for the 'Star Experience' as the package felt more special. And as I was sitting by the window seat relishing my complimentary chocolates, our AC coach entered the huge gates of Ramoji Film City.
We passed through some green spaces of untamed wild nature. But as the bus moved forward with a little more speed, the scene changed to beautiful lanes lined up with aesthetically designed pillars of street lights, manicured gardens and vintage fountains.
It felt like being transported to an altogether different world – the dream world of Ramoji Film City. The guide onboard explained about the history of the place, interesting facts and helped us spot various shooting locations of renowned movies.
Performances & Shows
The bus stops at multiple spots where you can enjoy shows and performances as well as click pictures of your favourite locations.
Sheru – The symbol of Ramoji Film City
Sheru is an imaginary cartoon character created by Ramoji Film City. It is used as a symbol of the film city. You will see many statues of Sheru scattered within the entire premises, smiling and welcoming you to the Film City. So, a picture with Sheru becomes mandatory.
Fundustan
We entered the mouth of an imaginary cartoon character Dadajin and took a stroll in the garden inside.
This place is to feed the imagination of the little child in you, as they say, you should always keep your inner child alive.
There're life size statues of various animals and cartoon characters.
Try your creative photography skills here.
Post this, you enter a theatre for some entertaining performances including a funny slug dance, and encounter with Dadajin himself.
Borasura's Cave
After this, we entered the cave of Borasura, another cartoon character portrayed as a bad magician and an arch rival of Dadajin.
Here you find all the spooky stuff – moving skeletons, skulls, spider webs, bats, books of black magic, mirror maze, rivers of fire, isolated snow world, burning caves, crystal balls and huge snakes – all this set up in eerie lightings and spooky background music.
Well.. a little scary for kids, but I laughed through this entire tour and enjoyed it very much!
Wild West Stunt Show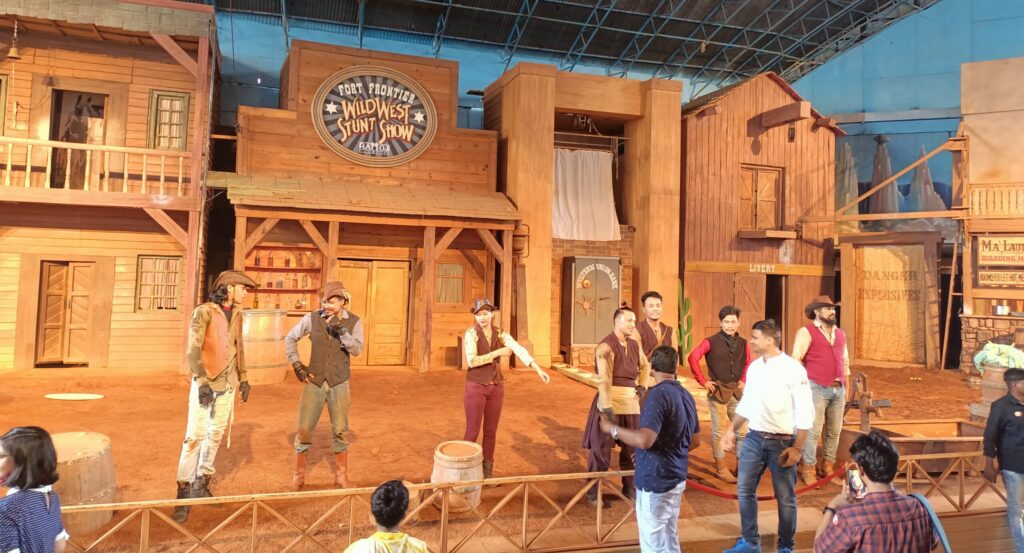 The next show is the Wild West Stunt Show that features a thrilling performance of cowboys stimulating a gun fight. The stage is dotted with 20th century American wooden houses, dried grass and horses. The show displays an unruly and rowdy behaviour of the lawless and untamed territories of the west during the late 1800s. The sound of the gun-shots, the thrilling stunts and the comic scenes – all of it makes this a great show!
Spirit of Ramoji Show
The Spirit of Ramoji show is one of the best among all shows. The show narrates the history of cinema with various visual acts and dance performances. This is followed by a romantic dance performance with aerial acts, and Vande Mataram dance to pump up your patriotic emotions. All these performances are bound you mesmerise you and transport you to a world where your imagination soars to the highest level.
Ramoji Movie Magic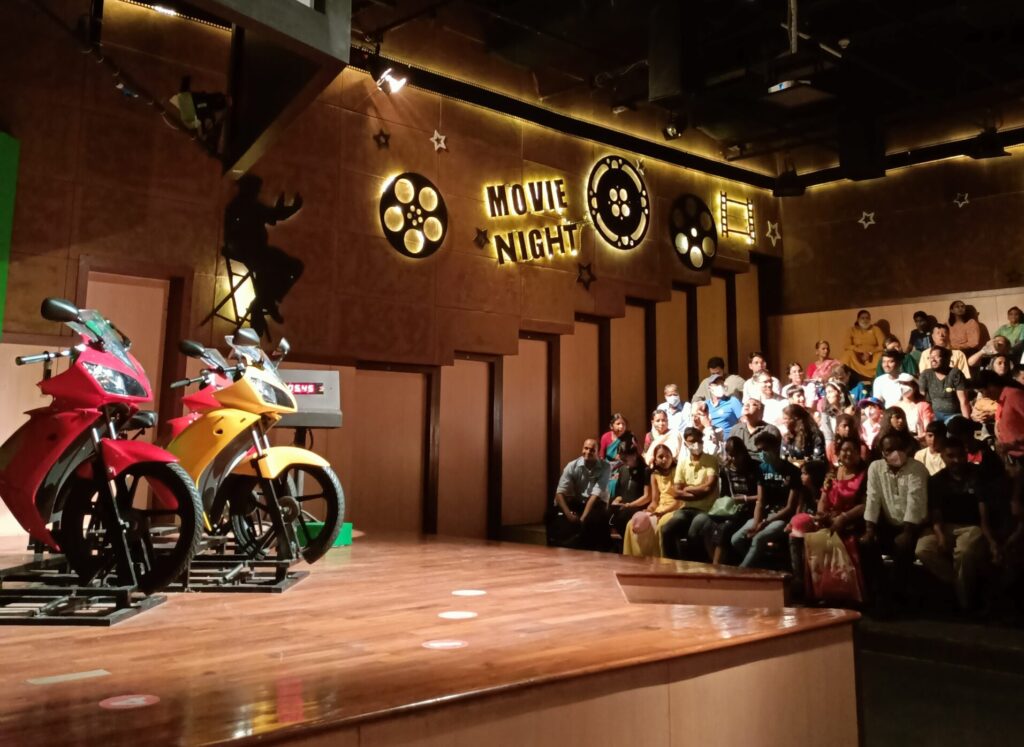 Chase Movie Night is the show that brings you back to the ground from your imaginary world. This is where they talk about the realistic stuff. Here you get to learn how visual effects and sounds are used in films. It talks about what happens behind the scenes in movies, and what you actually see is not all real.
With some volunteers on the stage, they tell you how a simple act as pretending to ride a bike, can be changed to a bike racing scene in movies with the use of visual effects on the green screens. An eye-opener of course! But knowledge is always good.
Rides of Ramoji Film City
There are a lot of thrilling rides at their amusement park. The price of most of the rides and shows are included in the price of the ticket.
Filmi Duniya Boat Ride
Now, since this last show has already shaken me out of my reverie, I would want some extra dose of imagination to get back to the world of dreams. The realistic stuff of life can wait until I exit the gates of Ramoji Film City. Here comes the saviour, the surreal boat ride of Filmy Duniya that takes you into the world of fairy tales.
The ride will take you through the changing landscapes of lush forests, to snowy hills and deserts, to various streets and cities of the world – everything beautifully lit with colourful light effects. Here, you will travel across continents without a visa.
Space Yatra
Space Yatra is a 7d show where you seem to be sitting in a ready-to-launch spacecraft, and it takes you on a voyage into the galaxy. It uses the elements of air and water to achieve the realistic effects of travelling in space. From avoiding meteorites to attacking enemies in the space, this one is quite a turbulent and thrilling ride!
Shooting Locations
Exploring various shooting locations and doing creative photography in these places is so much fun.
There's Eureka Plaza, Japanese Park, A Godless Temple, Kripalu Caves, Mahal in Chandramukhi movie, Hawa Mahal, railway station, airport, police station, central jail and vintage Cars.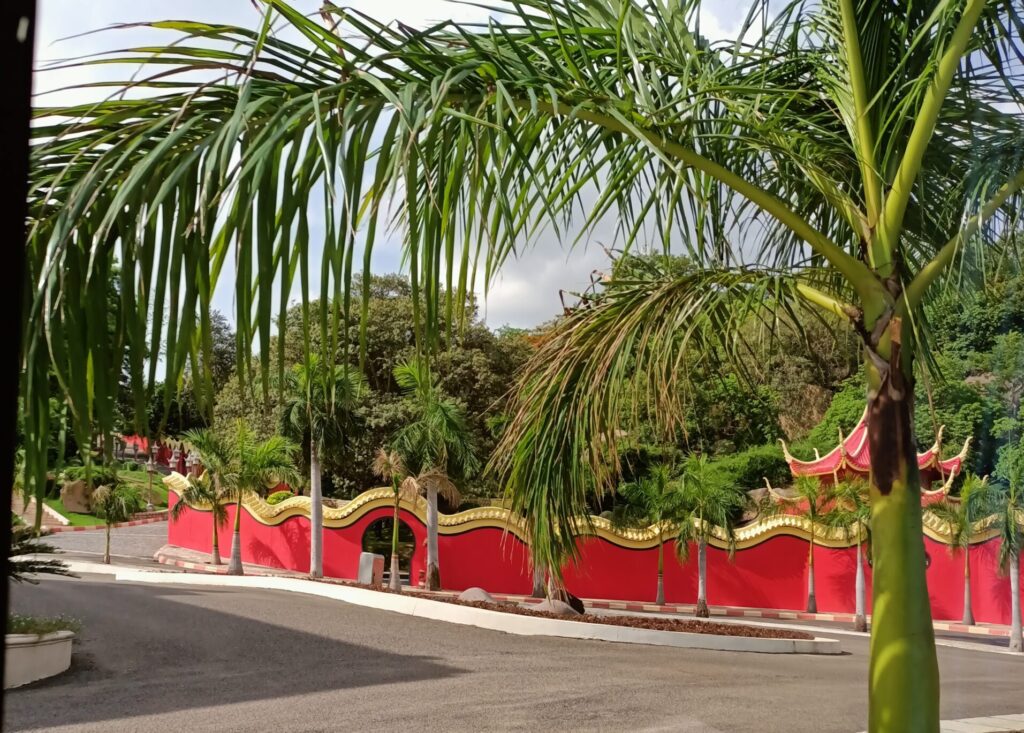 There are permanent sets of building blocks, slums, local market, and a number of themed streets. The Filmi Streets of the Ramoji Film City include London Street, Temple Street, Hotel Sitara Street, Highway Street, Kerala Palm Street etc.
You can explore all of these iconic places by going inside their houses, most of them are empty. Some of these buildings house furniture, art pieces and utensils. These shiny objects may look expensive when used in films, but if you touch them or lift them, they are just cheap lightweight plastic objects painted in gold and silver. We really had a good laugh exploring this fake stuff as well as the locations that look like amazing neighbourhood in movies, but in reality they are made of single cardboard sheet and there is no actual door to enter these places.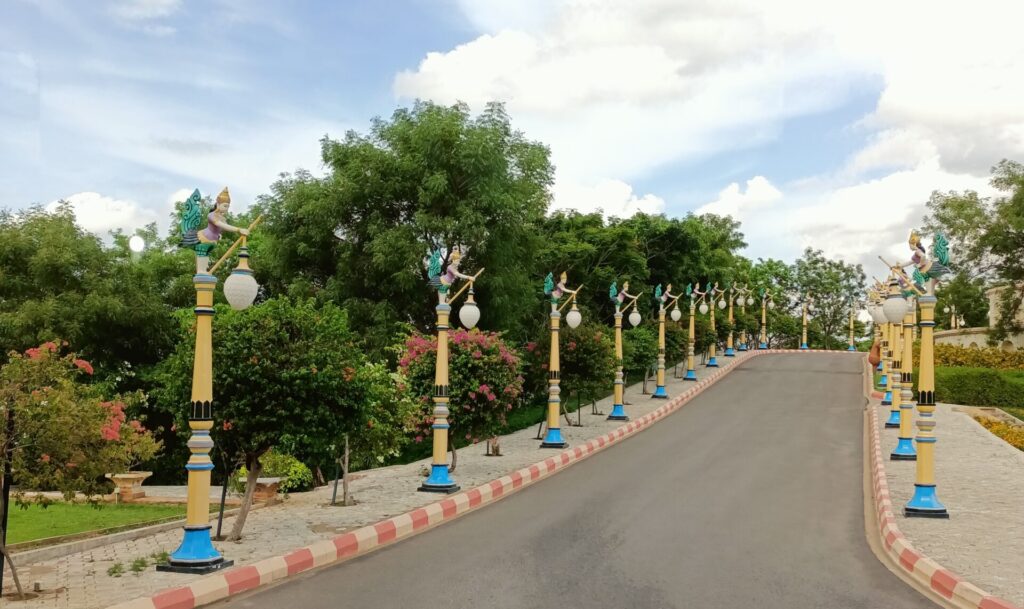 Well, it's always good to understand and acknowledge the thin line between imagination and reality. It's like soar high in your imagination, but never lose your grip over reality.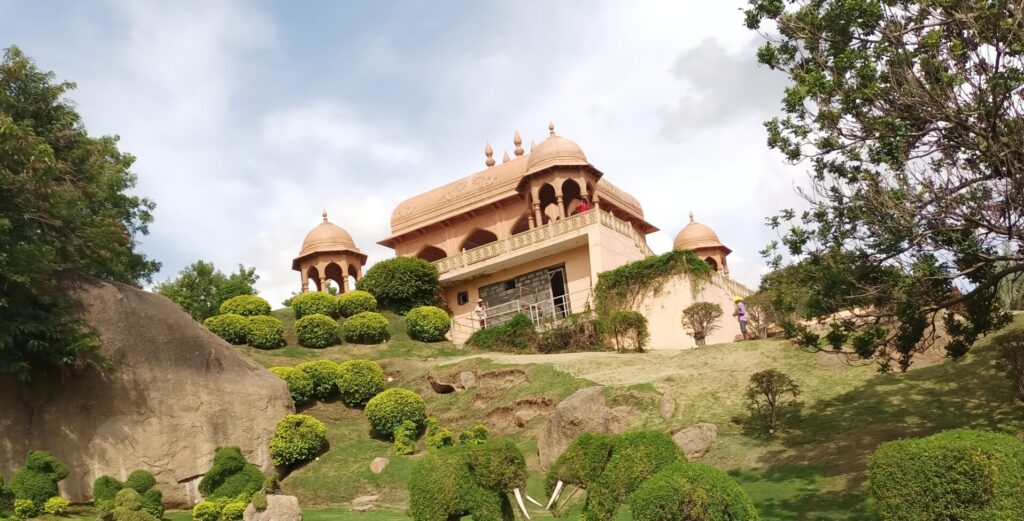 Most of these places are really picturesque and call for a good photo opportunity. You can be as creative as you wish, with your photography skills. I saw some visitors at the railway station set, trying to recreate the Raj- Simran scene from the bollywood movie Diwale Dulhaniya Le Jayengey.
Sets of Ramoji Film City
Sometimes, a production unit makes huge and extravagant sets using a lot of empty space in the premises. But when the production is complete, they leave the sets standing in the film city. These sets become tourist attractions and a part of the Ramoji Film City tour. The sets of Bhagawatam and Bahubali are two of them. 
Bhagwatam
The set of Bhagwatam is one of the most stunning sets in Ramoji Film City. It was exclusively made for the shooting of Mahabharata series in Tamil.
The glistening set portrays various scenes from the series and is a treat to the eyes.
Bahubali
The majestic set of the iconic movie Bahubali smokes grandeur and magnificence. There are life size statues of horses, elephants, large wheels, bows and arrows, thrones and many more objects used in the movie.
The best part is you can get close to all of them and click creative pictures. Sit on the Bahubali's throne or ride Bhallaldev's chariot, get clicked with the horses or pick up the bow and pretend to aim – the set is all yours to enjoy. 
There is no 'Do not touch' sign on this set and on most of the locations in Ramoji Film City. 
Restaurants
The Film City has nine amazing restaurants that offer a diverse selection of cuisines from around the world.
Galaxy Restaurant – Royal settings and the best of the traditional Indian and world cuisines.
Hollywood Restaurant – Pool view and opulent fine dining for Indian, Oriental and continental delicacies. Favourite restaurant of the celebrities.
Sangam Restaurant – For South Indian Cuisines.
'Dil Se' Restaurant – The castle like restaurant for North Indian and South Indian Delicacies.
Bahubali Darbar – The regal restaurant for gastronomical adventures, like Amarendra Bahubali biryani, Avanthika Jelabi, giant-sized dosa and much more.
Jimmy's Drive Inn – For snacks and knick-Knacks.
Super Star Restaurant – Bollywood themed star dinning experience. Buffet includes vegetarian and non-vegetarian options.
Alampana Restaurant – for Hyderabadi cuisines
Chanakya Restaurant – Exclusive Jain restaurant for pure vegetarian buffet.
In addition to these, there are eight small cafes and snack shops scattered around various film sets and locations.
As a part of our 'Star Experience' tour, we enjoyed our complimentary buffet lunch at the Bollywood themed Superstar Restaurant. The three course meal with a choice of Indian and continental dishes, was delicious and filling. 
Hotels
Ramoji Film City also houses 6 different hotels where you can book your stay. The hotels are of different categories and are equipped with all basic amenities.
Sitara Hotel -Luxurious and regal
Tara Hotel – Modern and cosy
Shantiniketan – Simple, relaxing and budget-Friendly
Greens Inn – Vibrant, quirky and economical
Vasundhara Villa – Luxury among Lush Greens for a family getaway.
Sahara Hotel – Dormitory style beds with different rooms for men and women
The Wings Bird Park
The Wings is an exotic bird park with a variety of colourful bird species from around the world, freely roaming around within the area. The bird park houses a waterfall and a small artificial pond where you will spot some water birds like ducks and swans. The park also houses exotic macaws, cockatoos, pheasants, parrots and ostriches. Click pictures with these birds and enjoy their non-stop quacks and chirps, while taking a leisurely stroll in the park.
Butterfly Garden
I was amused to find a beautiful butterfly garden in the sprawling wonderland of Ramoji Film City. The garden is a host to a wide variety of exotic butterflies. Here you'll enjoy spotting these lovely creatures in their natural habitat and click their pictures. You'll also get to know about the facts and fiction related to butterflies.
There's also a Bonsai Garden with a collection of over 150 Bonsai plants, and Colours Garden that displays a delightful mix of seasonal and perennial plants spread over several terraces and pathways.
Future of Ramoji Film City
This place aims to become a one-stop-shop for film producers. A kind of supermarket that offers everything readymade from sets and locations to film making equipments and services. It's like walking in the film city with a script and people and walking out with a canned film.
Finally, it was time to bid goodbye to this imaginary world and return to the realistic routines of life.
We all love films and their fancy locations, stories and backgrounds, but not many of us think that this is just a fictional dreamworld created to feed our imagination, to gratify the need for that perfect romanticism we don't get in our real lives. But whatever it is, it's still that imaginary colourful world we all love!
The little girl in me still wants to chase butterflies, fly with the birds, talk to the cartoon characters and live in the fairy tale castles – and you know what? Ramojii Film City catered to that little girl's desires and gave colourful wings to her out of the world imagination.
Overall, Ramoji Film City is all about the show business, not just for the filmmakers, but also for the visitors and the tourists. This is one place in Hyderabad I highly recommend visiting.
Hope you liked this post! Please leave a comment below about your thoughts on Ramoji Film City. Thank you for reading.