Top 20 Things To Do In Singapore
SINGAPORE – THE LION CITY
With its jaw dropping waterfront beaches, eye soothing green spaces and awe inspiring skyscrapers, Singapore looks like a scene from some futuristic Hollywood movie. Once a fishing village, the country is known for being a global financial centre today. Being one of the most densely populated places in the world and continuously growing in area due to its reclaimed land, Singapore takes pride in being a multicultural nation.
The country is famous for its world class city airport with a waterfall, and it's Botanical Garden is a World Heritage Site. Not just that, Singapore is also the largest port in Southeast Asia and one of the busiest one in the world. The climate here is pretty hot and humid and the best time to visit Singapore is from December to March
Singapore offers you a variety of amazing experiences and the memories you'll cherish for life. From the thrilling rides and stunning shows, to the rich flora and fauna of the country, to its musical nightlife and river cruises – Singapore has all that you need for a perfect holiday. Here is a list of top 20 things to do in Singapore.
1. Merlion Park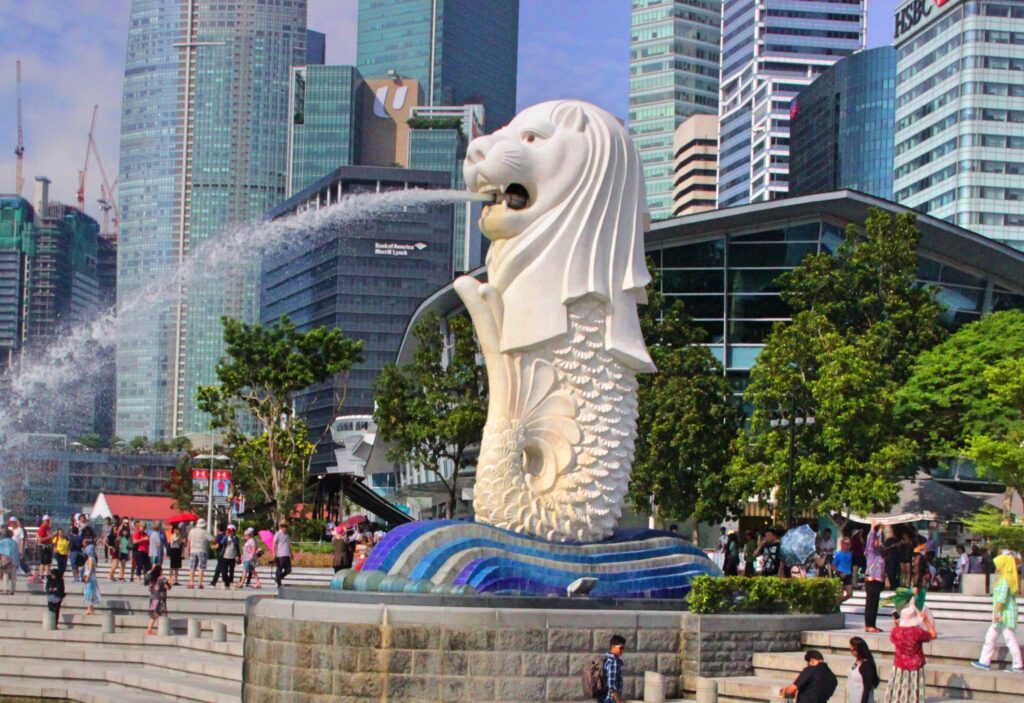 Merlion is the iconic symbol of Singapore and is widely used as a mascot and natural personification of the country. You will find it everywhere from the Emblems to Souvenirs to the symbol of tourism department etc.
It is a mythical animal with the body of a fish and head of a lion. Singapore was once a fishing village and its old name was 'Singpura', which means 'the lion city' in Sanskrit. Hence, Merlion is a representation of this name with the country's origin from a fishing village. Some locals narrate the story as Merlion being a huge sea monster that protected Singapore for numerous years, although there's no evidence to prove that.
Meet this legend of Singapore at the Merlion Park. The 8.7 metres tall, aesthetically carved statue proudly stands in the park sprouting water and facing the east, that is considered to be a direction that brings prosperity. Click pictures with the Merlion of the Lion City and take a stroll in the park to enjoy the view of the beautiful Singapore river.
2. SkyPark
Perched upon 56 floors of the Marina Bay Sands Hotel, the boat like structure of Sky park is an architectural marvel. Covering an area of 12400 square metres, it is large enough to fit almost four football fields. Taller than the Eiffel Tower, sky park boasts of providing the spectacular panoramic views of the entire Singapore city. It's observation deck can host upto 3900 visitors at one time. Skypark is also a home to approximately 650 plants and 250 trees. Not just that, there is a beautiful infinity swimming pool as well adjacent to the Observation Deck, accessible to hotel guests only. Skypark is operational Monday to Thursday from 9:30 am till 10:00 pm, and Friday to Sunday from 9:30 am till 11:00 pm.
3. Gardens by the Bay
Located in the heart of Singapore, Gardens by the Bay is a paradise for nature lovers. Spread over an area of 101 hectares, the sanctuary is divided into four major attractions.
Flower Dome – This air conditioned dome houses plants and flowers from five continents. The variety includes thousand year old olive trees, magnolias, tulips and orchids. The Flower Dome broke the Guinness World Record as being the World's Largest Glass Greenhouse in 2015.
Floral Fantasy – This part of the sanctuary is a complete fairy tale. From hanging gardens of Babylon to cavernous spaces, floral artwork to fascinating driftwood sculptures, Floral Fantasy transports you to a unique imaginary world.
Cloud Forest – The major attraction of Cloud Forest is its 35-metre tall man-made mountain and the waterfall flowing from it. As you scale the heigh of this mountain through the spiral stairs on it, you'll discover the lush vegetation and rich plant life from the tropical highlands. Cloud Forest is covered with mist and you do feel that on your skin too as you reach the heights of the Cloud Mountain. This part of the sanctuary also houses carnivorous plants like pitcher plant.
Supertree Grove – The Supertrees are huge soaring structures of Vertical Gardens, connected by the dramatic arch of Skyway. The Supertree Observatory is a 50-metre high observation deck, from where you can enjoy the unobstructed views of the beautiful Marina Bay district. Do not miss the light and sound show that takes place daily from 7:45 pm to 8:45 pm at the Supertree Grove.
4. Singapore Flyer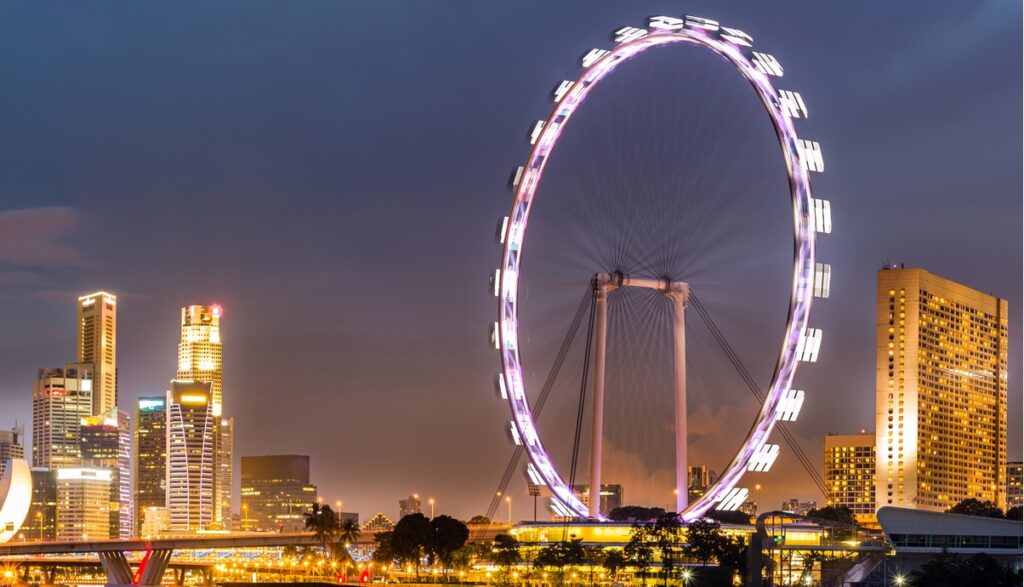 Singapore Flyer is Asia's answer to London Eye. Standing proudly amidst the skyscrapers of the Singapore Skyline, Singapore Flyer is Asia's largest giant observation wheel. You can step into one of its 28 fully air-conditioned glass capsules and embark on a 30-minute ride that takes you 165 metres above the ground. The views of the iconic and historical places as well as the city's skyline is a treat to the eyes. If this is not enough, you can also opt for their special in-flight packages, that include, a four-course meal, Champagne and cocktails.
5. National Orchid Garden

National Orchid Garden is a part of Singapore Botanical Gardens. It has more than 1000 species and more than 2000 hybrids of orchids to display. Immerse yourself in the enchanting beauty of these beautiful flowers.
Do not miss out the Cool House section of the garden where the mountain plants and trees are thoughtfully grown under an air-conditioned glass house to maintain their climatic conditions, another captivating sight.

6. Jurong Bird Park
Jurong Bird Parkis one of the most famous bird sanctuaries in the world and the largest bird park in Asia. It has a collection of over 5000 birds across 400 species.The well-cared birds are kept in their naturalistic environments. Don't miss on the star attractions of this colorful park.
Waterfall Aviary – A 30 meters long man-made waterfall and a home to more than 600 birds.
Lory Loft – an opportunity to get close to around 15 colorful and lively lory species. You can feed them and get clicked with them. The sight of these friendly and fearless birds will leave you tickling and smiling.

Penguin Coast – where you find numerous species of these lively penguins entertaining you with their playful tricks.
Flamingo Lake – An awe-inspiring sight of pink and white flamingo flocks.
Bird Shows – You can enjoy different bird shows that include Kings of the Skies show, where mighty eagles, hawks, and falcons show their perfect hunting moves. You can also dine with the penguins and parrots.
Huge Flightless Birds– Last but not the least, check out the species of huge flightless birds, such as, ostriches and dinosaur descendants.
7. Singapore Zoo
Singapore Zoo is a home to over 315 species of animals, with 16 percent of them being endangered ones. It is a place where these animals are well loved, well cared and well nourished. The zoo has been highly ranked by various international metrics. Singapore Zoo exhibits the animals in their naturalistic environment with hidden barriers, moats or glass separations between the animals and the visitors. There are animal shows, education about animals, animal feeding sessions and many more experiences you can opt for.
8. Night Safari & Fire Show
Night Safari takes you to the home of these animals at night. You'll find some animals sleeping and relaxing, and some of them become hyperactive at night. It's a tram ride that helps you peep into the night life of these animals. There's a moat separating the tram trail and the animal habitat. After the tram ride, there's a fire show that you should not miss. The super energetic performers dancing and throwing fire would leave your heart pounding.
9. Clarke Quay
Clarke Quay (Pronounced as Clark ki) is a glimpse of the nightlife of Singapore. This riverfront market is full of cafes, bars and restaurants serving the best drinks, local dishes and best seafood in the city. You'll find musicians playing in the open air bars and people stopping by and dancing to the music. Clarke Quay is a party lovers delight. It's a place to eat, drink and make merry.
Bonus Tip: When in Clarke Quay, do visit the city's oldest hotel Raffles and try their famous cocktail 'Singapore Sling'. Raffles is a British colonial-style luxury hotel. It was the first hotel in Singapore to have electric lights.
10. Singapore River Cruise
Your Singapore exploration experience is incomplete without the Singapore river cruise. Embark a traditional bumboat to explore Singapore's hidden treasures. It's a 40-minute river ride where you get to see the significant monuments and landmarks while sitting on the boat. The experience is more mesmerizing at night when the entire city is beautifully lit and alive.
11. Cable Car Ride to Sentosa Island
Sentosa is more like an Island resort of Singapore. Separated by a channel of water from the main island of Singapore, Sentosa is a home to many amazing tourist attractions. From world class resorts and hotels to fascinating museums, theme parks and multiple entertaining shows, the island offers super fun experiences to its visitors. Cable car ride to Sentosa is the beginning of this fun. The ride offers panoramic views of the country's southern region. The views of the lush green forests, golden beaches and the beautiful skyline of Sentosa, are simple breathtaking.
12. Universal Studios
Universal Studios is Southeast Asia's only theme park that features thrilling rides, amazing shows and attractions based on popular films and TV shows. This place is something you simply cannot miss, especially if you're a fan of Hollywood movies. Here you'll find your favourite characters like the Minions, Kung Fu Panda, the Hulk and many more. You can talk to them and even get clicked with them. The cutting edge rides like 'Transformers' and 'Human Vs Cyclone' are bound to give you an adrenaline rush. There are different sections and a lot of rides associated with them – from the world of Dinosaurs to Penguin world, from the scary rides based on Hollywood movie 'The Mummy' to the beautiful fairy tale rides, space travels and water rides, Universal Studios will never disappoint you. You'll need an entire day to enjoy this place to the fullest. It's advisable to pre book your tour and also opt for 'skip the line' tickets.
Bonus Tip: 'Transformers' is one of the most amazing rides and must not be missed. There is always a long queue for this ride. It is advisable you arrive early and as soon as the gates of the Universal Studios are open, this is the first ride you should queue for to avoid the hassle of standing in a long queue. 'Skip the line' tickets will also help.
13. Madame Tussauds Wax Museum
Madame Tussauds Wax Museum in Singapore is a red carpet experience where you meet your favourite celebrities in a life-like wax statue. You can get close to them and click pictures with them. These statues look so real that you can't spot the difference in your pictures. From the statues of Bollywood and Hollywood stars to famous sports players to iconic movie characters – they have it all. Not just that, you can also enjoy Marvel Universe 4D experience and 'Spirit of Singapore' boat ride, which is the first ever and the only boat ride in Madame Tussauds.
14. South East Asia Aquarium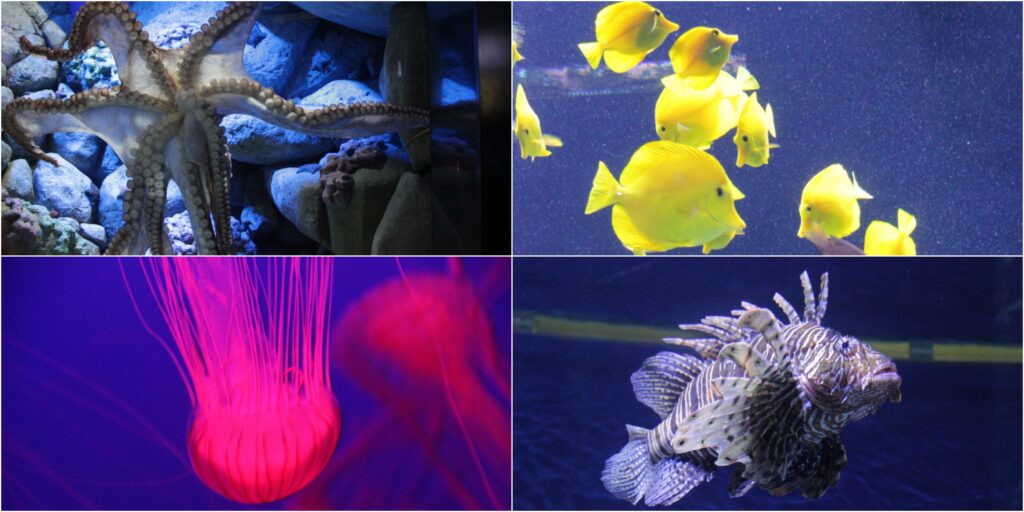 Classified as one of the largest aquariums in the world, S.E.A. Aquarium is a home to more than 100,000 marine animals from over 1000 species, belonging to more than 40 diverse habitats. This underwater theme park boasts of its interactive programs that helps you deepen your understanding of the marine life. Major attractions of the S.E.A. Aquarium includes, Shark Tunnel, coral reef-filled underwater cities and sea life flourishing on a sunken ship. You'll be amused to see the variety and colours of the sea creatures and how they move in their natural habitat.
15. Trick Eye Museum
Trick Eye Museum is an optical art museum located in Sentosa Island. It uses the technique of optical illusions to turn a two-dimensional paintings or artworks to three-dimensional images. If you love creative photography, this place is for you. Enjoy stepping into these paintings and artworks to click some creative photographs and trick the viewer's eyes.
For more details on Trick Eye Museum, please check my post 'Trick Eye – The Optical Art Museum'
16. Wings of Time Laser Show
'Wings of Time' is a spectacular laser show that takes place on the Siloso beach in Sentosa Island. It is the only permanent night time show in the world set on a larger than life water screen on the open sea. The show combines a beautiful storyline of a bird's time travel with the multi-sensory exhibition of water, laser lights and fire acts.
For more details on this, please check my post 'Wings of Time – A Stunning Laser Show'.
17. Chinatown
Located in central Singapore, Chinatown is known to be the city's most atmospheric area. With its colourful heritage buildings, old Chinese shophouses and fascinating architecture, Chinatown offers a glimpse into Singapore's rich multi-ethnic culture. This is the only Chinatown in the world where there is a Hindu temple, a mosque and a Buddhist temple along a single street. Chinatown is also a food lover's delight and a shoppers paradise. The place is dotted with an array of shops selling souvenirs, clothes, crafts, antiques and much more stuff. The club street is full of trendy and classic wine bars, whereas the food street offers a variety of authentic cuisines.
Bonus Tip: Trisha ride tour in Chinatown is recommended. They'll take you to a the iconic places on a Trisha (kind of a cycle rickshaw), and top it up with a traditional Chinese dinner. I really enjoyed the Trisha ride and we dined at 'Yum Cha' restaurant. The food was amazing.
18. Little India
Little India is Singapore's most colourful neighbourhood. Known for its vibrant colour traces, the place boasts of all things Indian. There are Indian restaurants, shops selling Indian goods, street art and temples. A little piece of India in the heart of Singapore is something that again displays Singapore's multicultural nature.
19. Oldest Chinese Temple
Built in 1839, Thian Hock Keng is the oldest Chinese temple in Singapore. The temple is dedicated to Chinese sea goddess, Mazu. It is now unveiled as a National Museum. Check out the detailed carvings, captivating sculptors of dragons, phoenixes and Chinese broken ceramic decoration. Feel the energies of this holy place to have a soul-soothing experience.
20. Buddha Tooth Relic Temple
Buddha Tooth Relic Temple in Chinatown is one of the most visited temples in Singapore. It is a beautiful five-story building built in 2007 and it houses the relic of left canine tooth of Buddha. This relic was recovered from his funeral pyre in Kushinagar, India. The size of the tooth is 7.5 cm, which is far too long for a human tooth. It is believed that the tooth continues to grow due to its special powers, even after thousands of years of Buddha's death. Well.. something worth watching! The relic can be viewed by the visitors at the 4th floor of the temple.
I hope this post is helpful for you to plan your next holiday in Singapore. Please leave a comment below about your thoughts on this post. Thank you reading!