Koh Jum Beach Villas – Paradise Personified
After spending two days in Phuket, we headed towards our next stop in Thailand, Koh Jum Island. We had our pre bookings made for Koh Jum Beach Villas.
Koh Jum Island is a little piece of paradise hidden in the lap of Thailand. With its lush green forests, tall palm trees, secluded beaches and untainted nature, Koh Jum makes a perfect getaway for that laid-back holiday vibe you may want away from the busy commercial world.
You can either book a traditional banana boat or a speedboat to reach Koh Jum from Phuket. We preferred speed boat as it was a 45 minutes sea ride. Banana boat takes almost double the time.
The speedboat ran at an electrifying speed on the restless waves of the vast Arabian Sea with cool sea breeze brushing through our hair. The blue hues of the sea and the views of the distant rocks were heavenly. As we got off the speedboat, there was a hotel cab waiting for us.
Koh Jum Island is quite secluded and beautiful. The greenery around is simply captivating. You feel like being in the lap of untainted nature. We found certain sign boards on the way with 'Tsunami Prone Area' written on them – quite scary at times. It seems Koh Jum is one of the lesser discovered Islands in Thailand.
The first look of Koh Jum Beach Villas mesmerized us. The resort was stunningly beautiful. Yes, we were expecting a hotel in natural surroundings but we never thought it would be raw nature – pristine and pure.
Our villa was a luxurious beachfront property. It was clean, comfortable and beautiful. There was a bedroom with a wardrobe and a safe. The super comfy beds were covered with a canopy of mosquito net. There was a rustic style attached washroom with modern toiletries and an open-air shower – 'under the stars shower' – that's what they call it. The concept was unique although we opted for 'under the sun shower' as it rained at night ;). The washroom also had separate bath towels and sea towels.
The living room was equipped with Thai style sofa, a centre table with complimentary fruits, and some selective books and guides of Thailand. There was a well-organised small kitchen with an electric kettle and a pantry (with free tea/coffee premixes) and a minibar (with a little overpriced menu).
The balcony had two chairs and a small table where you can enjoy the enthralling sea view. Sea was at a 20-metres walking distance and was visible from all rooms of the villa. This was something I really loved. You can hear the roar of the sea the entire day. Koh Jum Beach Villas is a natural luxury and truly a paradise for nature lovers.
There was no landline or TV in the room and no network on our mobiles. I think is is how you actually enjoy the real world by living in the moment. We were given a cordless phone by the staff to contact them for in-room or on-the-beach service. Free WiFi was available although the connectivity was extremely weak.
We initially thought of relaxing for a while, however, I couldn't wait to explore the place. So, in less than half an hour, we left our room to explore the surroundings of the hotel. Everything around was so green and fresh that it felt like some kind of nutrition to the eyes.
Koh Jum Beach Villas has twenty luxury villas – each of them with a private garden. As we passed by other beautiful villas and tropical gardens, we found some wild flowers, some pastoral huts with bamboo benches to relax, a big snail crawling on the road, some cats and a dog loitering around. We laughed, danced and strolled with no one around us to see. It felt like walking in some rural village with wild nature around.
We followed the sign boards to reach the hotel restaurant as food was the next thing on our mind. We had drinks and lunch on the beach and I must say the service as well as the food was excellent. The restaurant displayed two menus – Thai Food and International food.
We snacked on fried chicken with our drinks, and ordered Thai chicken curry with butter rice for the main course. Everything we had was dipped in lip-smacking Thai flavours.
The weather was pleasant and it started drizzling by the time we finished our lunch. We spent the evening sitting in our hotel balcony – chit chatting and listening to the sound of sea waves. The weather was cloudy and I didn't expect a sunset view. Suddenly, we saw a magnificent view of sunlight peeping through the dark clouds in a distant sky. Quite a hypnotic sight and definitely a sunset to remember.
In the evening, the staff came to set up the room for the night. They lighted an anti-mosquito pot, sprayed some mosquito repellent, turned down the curtains and opened the mosquito net. Since the resort is in natural settings and there are jungles surrounding it, you may find mosquitos and some bugs. Although I didn't see a single mosquito – maybe due to the mosquito repellents. The staff told us that if we want, we can choose to let the doors open and it was completely safe. To our surprise, there was no lock on the room. So, whenever you go out, you just leave the door open and roam around. Loved it!!
I must admit the villa looked a little scary at night if you look at it from afar. It looked like some mysterious haunted house standing alone in the middle of a jungle on a secluded Island. Hahaha.. Well! That was just my love for dark fantasies that my mind weaves a lot of such stories.
We were quite tired and slept early that day. I woke up in the middle of the night. It was raining heavily and the roar of the sea seemed to increase with every swell and ebb of the tides. It was a high tide of course. It somehow reminded me of the sign boards I saw on my way to the villa 'Tsunami Prone Area'. I got off from the bed to check if the floor was dry 😉 Imagination to the extreme! After inspecting the area and making sure there's no Tsunami yet, I went back to my bed and slept again after struggling with my thoughts of Tsunami with every roar of the sea.
We had plans of going to Phi Phi island the next day, however, the weather we woke up to wasn't favourable for the sea ride. It was cloudy and windy. It didn't matter to me anymore. I was so happy staying in my luxury villa that I didn't want to go anywhere else.
It started raining by the time we decided to go for breakfast. Koh Jum Island gets frequent rains and that must be the reason we had two umbrellas in our room. You can get your food delivered in room, however, we preferred walking to the restaurant carrying our umbrellas. Living in a metropolitan city like Delhi, it's not every day you get to walk in the rain with lush nature around.
The breakfast menu was nice and delicious. We ordered a Thai omelette, a spicy onion omelette, fried potatoes, pan-fried mushrooms, brown bread, butter and some juice. The restaurant offered a beautiful pool and the sea view.
After the hearty breakfast, it was time for the beach walk as the rain had stopped by now. We went for a little walk on the resort's seven-hundred-metres long private beach collecting some sea shells and spotting tiny crabs in their natural habitat. A couple of other guests were also strolling on the beach and greeted us with a warm smile.
The weather couldn't stop me from playing with the daunting sea waves. Being a water baby, this is something I couldn't afford to miss. I spent a lot of time drenching in vitamin sea before relaxing on the sunbed. The beautiful weather and the relaxing sunbeds called for some drinks. We had martini and some beer served on the beach. Since we were instructed to carry the cordless all the time, it was easy for us to order drinks or snacks anywhere within the resort.
It started drizzling again and we ran to our villa. The rain and the sun played pranks multiple times during our stay .
By the time we took bath and got ready, it was already evening and we were darn hungry. We decided to try some evening snacks with some fine wine.
The bar of the resort had nice collection of boutique wines. We ordered a New Zealand white wine to enjoy with the Indian snacks 'chicken tikka with green chutney'.
Today's menu was specially designed for their Indian guests, that is, us. The chef made a lot of effort to cook Indian meal for us. The dinner was Indian style chicken curry and garlic butter naan. The naan looked a little shapeless but they were super delicious. This was way above my expectations – authentic Indian meal in Thailand.. Wow! Everything in Koh Jum Beach Villas is done with great love. I was impressed with their hospitality and personal attention.
We carried the remaining wine to our room and enjoyed till late night. It rained heavily all night but this time, I loved the sound of the sea waves. They weren't scary anymore. They were familiar now. They were a part of the Island, just like everything else around. I felt that special connection with the nature, the sea, the trees and plants around. I felt like being a part of the Island – a feeling of belongingness, a feeling of being at home, a feeling of reconnecting with life and nature. No words can describe this feeling. It was just pure love for this place.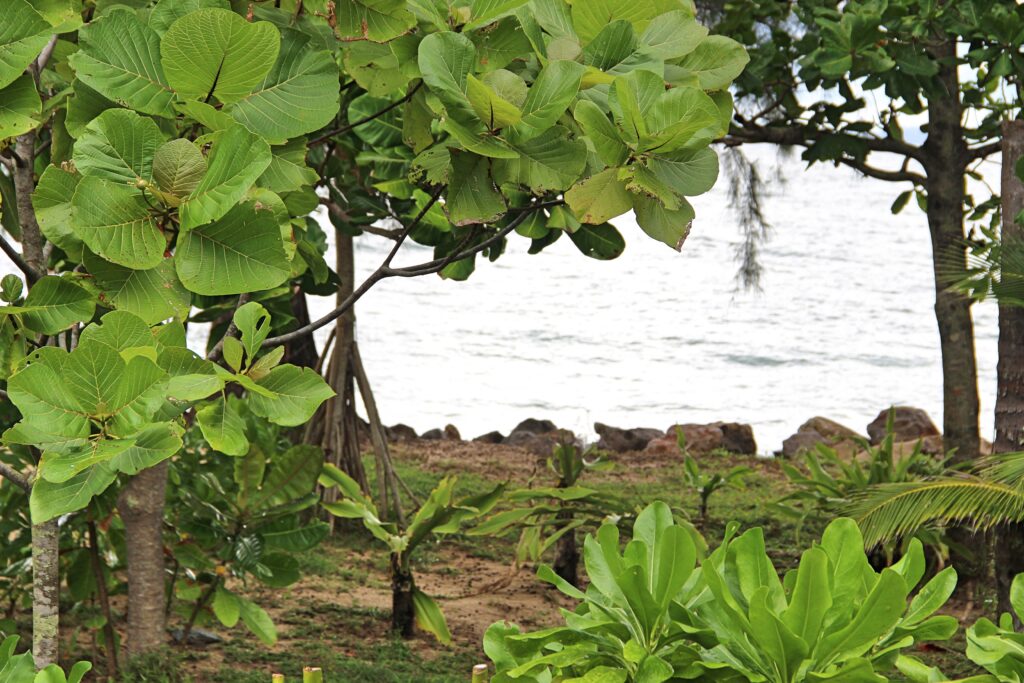 It was still raining when we woke up in the morning. It was our checkout day but I hated to leave my cute villa. I wanted to spend some more days there – listening to the high tide, playing in the sea waves, watching the rain and the cloudy skies, adoring the sunsets, looking for more snails and crabs, and enjoying my glass of wine.
However, it was time to open my eyes and get ready as we had a flight to catch for Bangkok. Since we left early without having breakfast, the hotel staff was caring enough to pack breakfast for both of us. The packet contained bananas, sandwiches, tetra packs of juice and water bottles. We even carried the umbrellas till our drop at the speedboat. They wrapped our luggage in a polythene sheet so it doesn't get wet. This is the kind of hospitality I would never forget. Every little detail was taken care of with utmost perfection.
Overall, Koh Jum Beach Villas is the most luxurious resort on Koh Jum Island. If you are looking for a tranquil and serene holiday in the lap of pristine nature, away from the hurly burly city life, Koh Jum Beach Villas is a perfect choice. Whether you plan a romantic holiday or a peaceful family getaway, the resort caters to both. It is an undiscovered paradise in the heart of Thailand.