Top 10 Things To Do In Dubai
Dubai has so much to offer that the list of things to do in Dubai is endless. From its Iconic buildings, extravagant malls, museums and traditional souk markets to the adventurous dune bashing, thrilling water slides, beautiful snow park and stunning aquariums, Dubai has a long list of activities and experiences to spoil you for choices. Here is a list of top 10 of them that I really enjoyed.
1. Burj Khalifa

Soaring at a spectacular height of 829.8 metres, Burj Khalifa is recorded as the tallest man made structure in the world. This 164-storey skyscraper houses a residential complex, business space and an Armani hotel.

There are two observation decks in Burj Khalifa – At the Top Burj Khalifa on 124th floor, and At the TopSky Burj Khalifa on 148th floor. Board the fastest elevator in the world to reach your desired deck. The elevator moves at a speed of 10 metres per second.

The observation decks offer bird's eye view of the entire Dubai city. The unobstructed view of the sparkling sea and the sprawling desert through the giant floor-to-ceiling glass walls is bound to leave you spellbound. Watching sunset from Burj Khalifa is another surreal experience I highly recommend.

You can also opt to dine at 'At.mosphere', which is known to be the world's highest restaurant. It is located on the 122nd floor of the building and offers great food with amazing views.

To know more about Burj Khalifa, please check my post, 'At The Top – Burj Khalifa'
2. Dubai Aquarium & Underwater Zoo
This is one of the most unforgettable aquatic experience you would not want to miss. Dubai Aquarium is known to be the largest suspended Aquariums in the world. It's a 10 million-litre tank with more than 3300 aquatic animals in it. It has the largest collection of sand tiger sharks.

Take a 48 metres walk under an underwater tunnel located at the base of the aquarium. As you enter the underwater zoo through this tunnel, you will be transported to a world of colourful fishes, glowing jellyfishes, sea snakes, sea crabs, octopus and a wide range of other exotic creatures.
Not just that, there is a section where you can see penguins as well as the nocturnal animals like bats, owls and chameleons. The main attraction of underwater zoo is a King Croc and his female counterpart. It is 5 metres long and weighs around 750 pounds, and still growing.
Here you can also opt for activities like marine animal encounters and feedings, glass bottom boat tour and swimming with the sharks in an oxygen tank.
3. Dubai Mall
Covering an area of more than 1 million square metres, with 1200 retails stores in it, Dubai mall is one of the largest shopping malls in the world. The mall houses the Dubai Aquarium and Underwater Zoo, an Olympic-sized Ice Rink, Kidzania (an incredible make-believe town for kids), a massive indoor cinema complex and an indoor waterfall, which is the most photographed point in the mall. Dubai Mall has something for everyone.
Bonus Tips:
Don't miss out on the spectacular musical Fountain Show that takes place outside the mall everyday. It is the tallest performing fountain in the world. The show occurs every 30 minutes from 6:00 pm to 11:00 pm.
Looking for some budget shopping in Dubai? Head to the Dubai Outlet Mall. You'll get great offers on big brands and a lot of stuff on sale. If you have good bargaining skills, this is the place to use them. Dubai Outlet Mall is the ultimate value-shopping destination.

4. Ski Dubai
Who could have thought of finding a snow park in the middle of a desert? Well.. Dubai is beyond your imagination. Located in the Mall of Emirates, Ski Dubai Snow Park is built in an area of 22500 square meters and a temperature between -1 to 2 degrees is maintained in the park. With an 85-metre high real snow hill, Ski Dubai gives you a feel of being on a hill station.
Here, you can play with the snow, roll down the snowy slopes, make a snowman, explore a snow cavern, enjoy the classic chairlift ride on the zip line, opt for ski lessons, or simply ski from the hill all the way to the bottom. Not just that, you will also meet some lively penguins in the park. There is a snack shop, in case you want to grab a warm drink. Try their hot chocolate with marshmallows. It tastes amazing. For a moment, you forget you are in Dubai and the weather outside is hot and humid. Quite an experience of its own kind not to be missed!
5. Marina Dhow Cruise

Marina Dhow Cruise combines a beautiful experience of sailing on the tranquil waters of Dubai Marina framed by the glittering night lights of the city, with sumptuous three-course meal, topped with entertaining cultural performances. Alcoholic beverages are also available onboard at additional price. The performances include their traditional Tanoura dance and an Egyptian storytelling performance. A family dinner or a romantic evening with your special someone – Marina Dhow Cruise caters to both.
6. Aquaventure Water Park

Want a thrilling adventure along with some fun? Head to the Aquaventure Water Park at the La Atlantis Hotel. The park is famous for its thrilling water slides and it's officially the largest waterpark in the world as well as the one with the maximum number of waterslides. The park houses 105 slides, water sports, marine sports, private beaches and children's play area.
The most infamous slide of Aquaventure is 'Leap of Faith' – the tallest waterslide in the world. It drops you from a scary height of 60 feet into a lagoon that seems to be full of sharks, but the sharks are actually in the glass tubes. Since the slide is quite steep, it feels like a free fall from a 9-storey building with the view of the sea afar. It was the most challenging one for me, though I felt good after winning this challenge.
There are many other slides and activities that will keep you busy and happy the entire day. Outside food and eatables are not allowed here, but there are many restaurants and cafes within the park. Some packages do include towels, but they can be rented as well. The park is open daily from 9:15 am till 5:30 pm..
Bonus Tip: If it's your birthday week, you get a free ticket to the Aquaventure Park along with a complimentary photograph. Entry to the water park is also free for guests staying at the La Atlantis Hotel.
7. Dubai Fort and Museum

Dubai Museum is located in the Al Fahidi Fort – a stunning desert fort which is the oldest existing building in Dubai. If you're a history buff like me, you simply cannot afford to miss this place. The museum offers a rich dive into the culture and History of Dubai. The displays include several dioramas showing life in the emirate before the discovery of oil. The galleries recreate scenes from Dubai creek, Arab houses, date farms, desert life etc. There is a showcase of old weapons, utensils and many other artefacts. The courtyard of the museum houses several traditional boats, a palm-leaf house with an Emirati wind-tower. The fort is open from 8:30 am – 8: 30 pm from Saturday to Thursday, and 2: 30 pm to 8:30 PM on Friday.
8. The Souk Markets

Souks are the traditional Arabic markets of Dubai. There is Gold Souk, Perfume Souk, Spice Souk, Textile Souk, Souk Madinat where you can buy luxurious goods, and so on. Even if you don't wish to buy anything, taking a tour of these souk markets is such a delight. Well, there is a camel souk as well where you find rich Arabs at a camel auction. Camels are decorated and dressed up, and people bid on them.  As a tourist, you may want to visit this souk for that old Dubai vibe. 
9. Desert Safari

Desert Safari in Dubai is a must-experience activity. The tour includes the thrills of dune bashing in a land cruiser and stopping at various points to admire the splendid beauty of the Al Hibab desert and capture some amazing moments. After the dune bashing and sunset views in the desert, you are transported to a completely different world of Arabian Nights. There is a camp in the middle of the desert, where you can enjoy traditional Arabic food, shisha (hookah) and drinks. You can get clicked with a falcon and get a henna tattoo. This is followed by belly dancing and tanoura dance performances. A night to remember!
10. Dubai Miracle Garden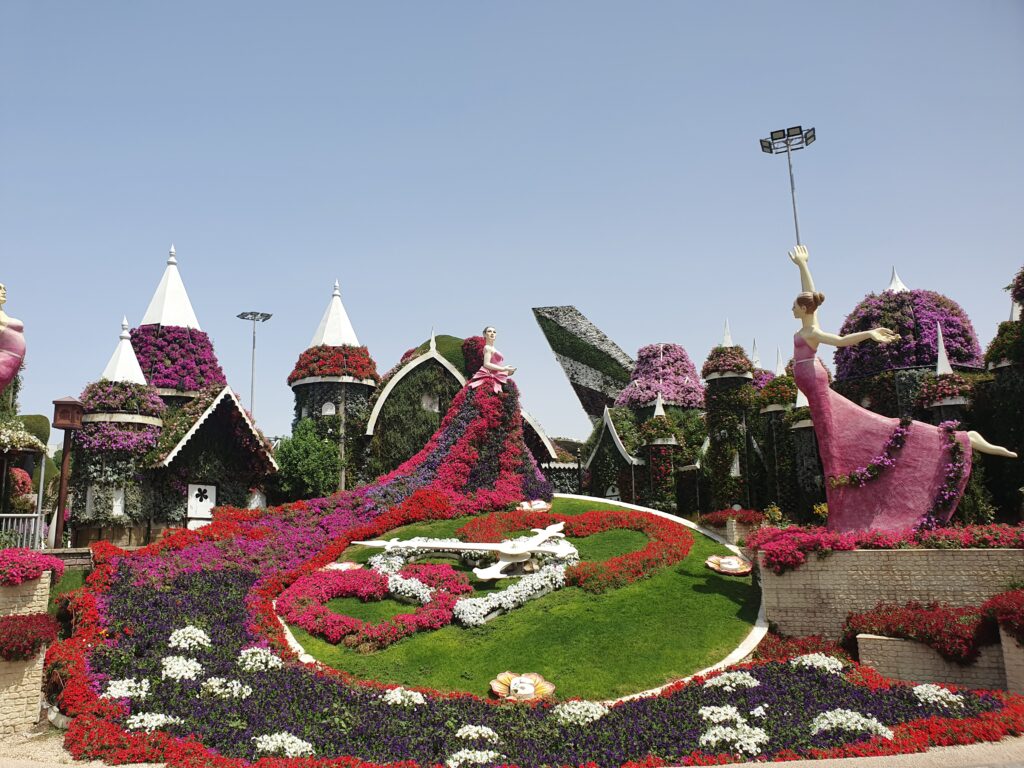 This place is a flower-lovers delight. Spread over an area of 7200 square metres, the Dubai Miracle Garden is the world's largest natural flower garden. The garden features over 50 million flowers and 250 million plants impressively lined-up to exhibit beautiful buildings and structures. From the heart-shaped pathway to petal-powered castles, full sized houses, Emirates airplane, floating lady, Smurfs Village – everything around is full of beautiful blooms.
It all feels like walking in some fairy tale setup. Definitely a worth visit! The best time to visit the garden is after 4 pm to the catch the sunset views. Dubai Miracle Garden remains closed during the summer months. It opens in early November up to late April. The timings are 9:00 am till 9:00 pm, Monday to Friday, and 9:00 am to 11:00 pm, Saturday and Sunday.
Hope this helps you plan your Dubai trip. Have you visited any of these places. Please leave a comment below about your thoughts on this post. Thank you for reading!
To know more about Dubai, please check my post 'Dubai – The City of Gold'.