Food And Wine Tasting At 'Indian Accent'
I heard a lot of good things about 'Indian Accent' and its innovative cuisines. When I got to know that the India's most celebrated restaurants is offering a special Chef's Tasting Menu & Wine Tasting Experience, I had to try it. We made our reservations way in advance and here comes the day when we were all set for this gastronomical experience. 
About Indian Accent
Indian Accent is one of the most authentic fine dining restaurants in Delhi. It is located within The Lodhi hotel. Famous for its amazing fusion Indian food, the restaurant has bagged a lot of accolades.
Indian Accent is ranked at #22 in the list of Asia's 50 best restaurants.
It is awarded as the best restaurant of India for seven consecutive years (2015-2021). 
The restaurant is rewarded as the number one restaurant in India by Condé Nast Traveller.
It is also recognised by Time Magazine 'Amongst the World's 100 Greatest Places' 
Ambience
With its warm lights and the use of earthly colours, the restaurant displays a dim-lit romantic and peaceful ambience. It's glass walls and ceilings, marble floor with rich seating, bestows the restaurant with a simple yet modern touch. The gigantic silver diya-trees add an Indian touch to the otherwise contemporary decor. 
Food
Food is what makes Indian Accent the best choice for fine dining any day. It's contemporary Indian menu is tastefully designed by Chef Manish Mehrotra. The menu offers a lot of choices for both vegetarians and non-vegetarians. It is a beautiful blend of global ingredients and techniques with Indian flavours and traditions. The food is spiced to perfection that appeals to both Indian and Western palate. The presentation is simply impressive. 
Chef's Tasting Menu 
Their Chef's Tasting Menu is something you must try. It is a six-course menu with an option of vegetarian and non-vegetarian. Sine we were two people, we thought of trying both the menus. Every dish they presented was aesthetically appealing and was a burst of interesting  flavours.
The portion size is pretty small, bite size I would say, so you don't overfill. But that's what differentiates 'tasting' from 'eating'. But their rich variety of food ensures you don't leave hungry. 
This tasting menu included Pani puri with 6 different types of filling, Dahi Bhalla with namak pada, roast beet, herb chicken, Butter chicken kulcha and a lot more dishes. 
They also served anar and churn kulfi sorbet in between the dishes to clear the pallet. Last but not the least was their delicious dessert made of masala coconut custard, chironji, date and jaggery. The staff explained the ingredients of each dish before we started eating.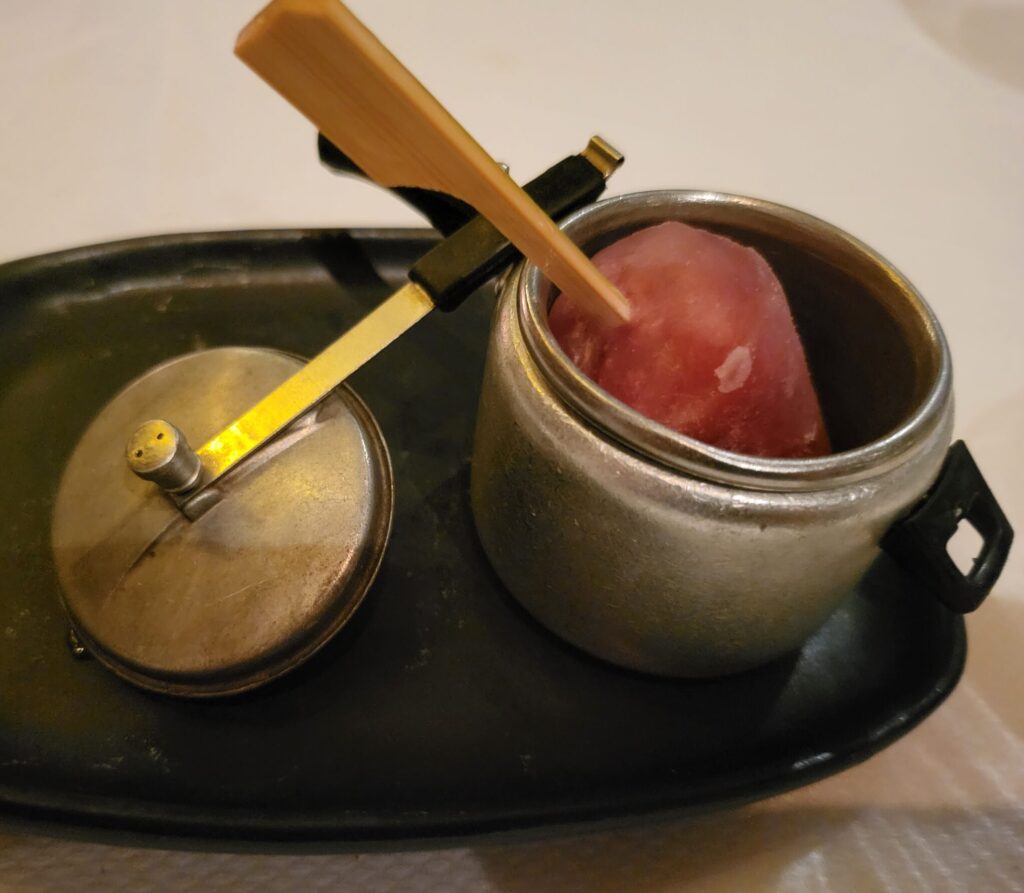 I was amused looking at the perfection of their plating, not to mention the mouth melting bites and the aromatic flavours.
Food that appeals to all your senses is what you call a culinary delight. 
Wine Tasting Menu
We paired this six course tasting menu with their wine tasting experience, which I highly recommend if you love wine. This is because the wine served is matched with your food by a knowledgeable sommelier, so you also get to know which wine goes with what type of food.
Their extensive wine tasting menu includes six glasses (75 ml each) of wine with a mix of European and Indian Wines. They serve these wines in different types of glasses – again you get to know which glass type goes for which wine. Being a wine lover, I'm very particular about the wine glasses, and I absolutely loved it when they changed the glass when the wine type was changed. 
The varieties included sparkling wine, red wine, white wine and dessert wine. Detailed knowledge about the wine was given to us before it was artfully poured in our glasses. The way someone handles a wine bottle says a lot about how much he knows about wine. Well.. well.. me being me.. a person who knows wine and loves wine will agree with me on this.
I must say the staff at Indian Accent knows wine. So, I absolutely loved this experience as well as their selection of wines!
Hospitality & Service
The hospitality of Indian Accent is commendable. They are known for their top-notch service. You feel warmly welcomed and the staff here is on their toes to serve you. They are very knowledgeable and patient in helping you select your food, as well as explaining your food and drinks to you. The service is neither too slow not too fast. They give you enough time to finish your food before bringing the next course. All of this, they do it with a service smile. 
Price
The prices for their Chef's Menu Tasting are:
4800 INR per person for Vegetarian menu
4900 INR per person for Non-Vegetarian menu
Wine Tasting costs you 4800 INR per person. 
Timings
Indian Accent is open on all days from 12:00 pm to 2:30 pm and from 7:00 pm to 10:30 pm.
Overall, it's an experience well worth the price! Indian Accent is an opulent fine dining destination that will never disappoint you. From their food to ambience to hospitality and service, everything is simply amazing. The chef here makes sure that each and every dish is perfect with respect to its presentation, taste and creativity. I would love to dine here again tasting some exclusive wines from their extensive menu and also try some flavourful dishes from their ala carte food menu.