Top 10 Delicacies You Must Try in Rajasthan
The Indian state of Rajasthan is not just famous for its royal warriors, but it also exhibits a culture that glorifies food. The bright coloured attire of the people of Rajasthan offers a great contrast to the extreme and dry climate here. But this is not where the contrast ends. Who would have thought that the place where there is a scarcity of vegetables would be a place that's famous for its variety of lip smacking delicacies? Yes, when it comes to Rajasthani cuisines, the list is endless. From the variety of sauces and street foods to the curry dishes and desserts, everything is a rich combination of aromatic flavours and unforgettable taste. But, you surely have to forget about your calorie count while having a hearty Rajasthani meal. Here's a list of ten Rajasthani cuisines you must try on your visit to this royal state.
1. Rajasthani Dal Bati Churma
Rajasthani food is incomplete without the lip smacking flavours of Dal-Bati-Churma. It is a delicacy you simply cannot miss in Rajasthan. This lavish dish comprises of panchmel dal, wheat and semolina batis and a sweet dessert called churma.
Batis are flaky round breads baked over firewoods or cow dung cakes; and then dipped in ghee for some time. Panchmel Dal is a combination of five lentils cooked in pure ghee and tempered Indian spices. Once cooked, more ghee is added to enhance the flavour and taste. Churma is a sumptuous sweet dessert made by deep frying unsalted dough in ghee. The deep fried batis are then crushed coarsely and mixed with sugar or jaggery and roasted dry fruits. Dal Bati Churma is a complete and filling meal.
The history of bati is quite interesting. During the period of Mewar dynasty, when Rajputs were establishing their hold in the region, bati was an official wartime meal. The soldiers would break the dough into small pieces and leave it buried under the thin layers of sand to be baked by the heat of the sun. When they returned from the battlefield, they would dig out the perfectly baked batis. They were then dipped in ghee and consumed with curd made from camel milk. Dal and churma were added later as a more evolved version. When in Rajasthan, do not miss out on this flavourful traditional dish. Batis can also be baked in oven. So, you can try your hands on Dal Bati Churma at home as well.
2. Laal Maas
Laal Maas is a delicious non-vegetarian curry and is something you simply cannot miss in Rajasthan if you are a non-vegetarian. Fresh tender mutton is slow-cooked in a sauce of yoghurt, tempered Indian spices, ginger, garlic and a lot of red chillies to give it a bright red colour. This royal Rajasthani cuisine is super hot and spicy, but equally delicious and mouth-melting. During the reign of Kings, wild meat such as boar, deer etc. (whatever the king would get while hunting) was used to make Laal Maas. A lot of chillies and hot spices were added to hide the gamy odour of the meat. It was a signature dish of the royalty of that time and was flaunted in their lavish treats. While the wild meat has been replaced by tender mutton, the spicy flavour remains intact. Laal Mass is generally eaten with chapatis (flat Indian bread) made of wheat or millet flour.
3. Rajasthani Kadhi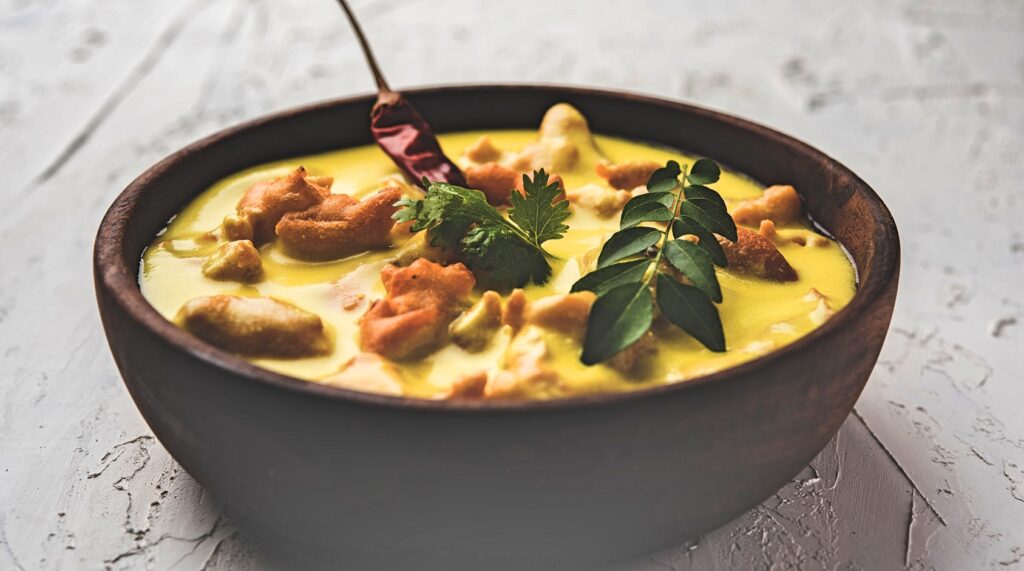 Rajasthani Kadhi is a flavourful, pungent and lip smacking curry dish not to be missed when travelling to Rajasthan. It is prepared with sour curd and gram flour as the main ingredients. Spices are added for flavour and taste. Once the curry is made, fried gram flour fritters (Pakodas) are added to make it a more filling dish. Kadhi can be eaten with boiled rice or chapatis. Rajasthani curry is spicier than the Kadhi versions from other states of India and it is a healthy staple diet in Rajasthan.
4. Gatta Curry
Gatta Curry is a delicious gram flour dumpling dish dipped in authentic Rajasthani flavours. Preparation involves cooking the boiled gram flour dumplings in a tangy and spicy yoghurt sauce. The dumplings are mouth-melting and the taste of the curry will leave you wanting for more. Gatta Curry is generally eaten with wheat chapatis (Indian flat bread). Owing to Rajasthan's dry climate, there is less availability of fresh vegetables. Hence, they have invented many delectable dishes using the grains, pulses and flours.
5. Mirchi Vada
Mirch Vada is a popular street food of Rajasthan. The snack is indeed mouth-watering for people who love spicy food. These are chilli cutlets made from thick and a little less spicy green chillies, popularly known as banana chillies. The chillies are stuffed with tangy and spicy boiled potato stuffing. They are then dipped in gram flour batter and deep fried until crispy. This Rajasthani cuisine is served hot with mint chutney, chilli sauce or tomato sauce.
6. Onion Kachori
Onion Kachori is another delicious Rajasthani cuisine to treat your taste buds. It is a popular street snack you will find in almost all street food shops in Rajasthan. Onion Kachori is a deep fried pastry with a spicy onion filling. It is served hot with green sauce, tomato sauce or potato curry. This dish is generally had in breakfast or as an evening snack.
7. Malpua
Malpua is a tempting and super delicious dessert you must try to satiate your sweet tooth. These are deep fried semolina or corn flour pancakes dipped in sugar syrup, garnished with dry fruits and served hot with kesar rabri (sweetened and thickened whole milk) . Ghee (clarified butter) is used for frying the pancakes and cardamom and saffron are added to the sugar syrup for additional flavour.
8. Moong Dal Halwa
Moong Dal Halwa is an appetising Rajasthani dessert generally prepared in Winters. It is rich and classic delicacy made by grinding the soaked yellow moong lentil and sautéing it in clarified butter. The sauté part requires a lot of patience. Milk, mawa, sugar, cardamom powder and dry fruits are then added to it for that delicious taste. Moong Dal Halwa is a little heavy on stomach and you may not have it in large quantity. But that small serving is sure to satisfy your taste buds.
9. Besan Barfi
Besan Barfi, also known as 'Dilkushar' or 'Mohanthal' is a divine sweet generally prepared in Rajasthani homes during festivals. However, you can get it from the sweet shops in Rajasthan all-round the year. This delicious and chewy Rajasthani cuisine is prepared with coarse gram flour, sugar, mava, milk, cardamom powder and dry fruits. Roasted gram flour adds a unique flavour to Besan Barfi and mava adds to the divine taste.
10. Ghewar
Ghewar is another mouth-watering dessert and is an inseparable part of Rajasthani cuisine. It is a disc shaped sweet cake generally made during Teej and Raksha Bandhan festival. The cake is made with all-purpose flour, sugar, clarified butter and dry fruits. There are different versions of Ghevar and they all have a slightly different preparation and garnishing methods. The varieties include plain ghewar, rabri ghewar, mawa ghewar and paneer ghewar. All of them are equally delicious.