Ramada is a centrally located art-hotel in the heart of Jammu City. On my recent trip to the city, we planned to spend an event at their famous Sky Bar restaurant. As the name suggests, Sky Bar is located on the the 5th floor of Ramada hotel offering panoramic views of the city's skyline as well as the glorious Tawi river.
Ramada Sky Bar Ambience
With its neon lights, artistic décor and seating by the pool, this restro-bar oozes a relaxed and laid back vibe. Take a seat near the pool and enjoy the glittering views of the city with a glass of your favourite drink in hand and the cool breeze brushing through your hair. Munch on your favourite snacks as the ambience of the place gets you high.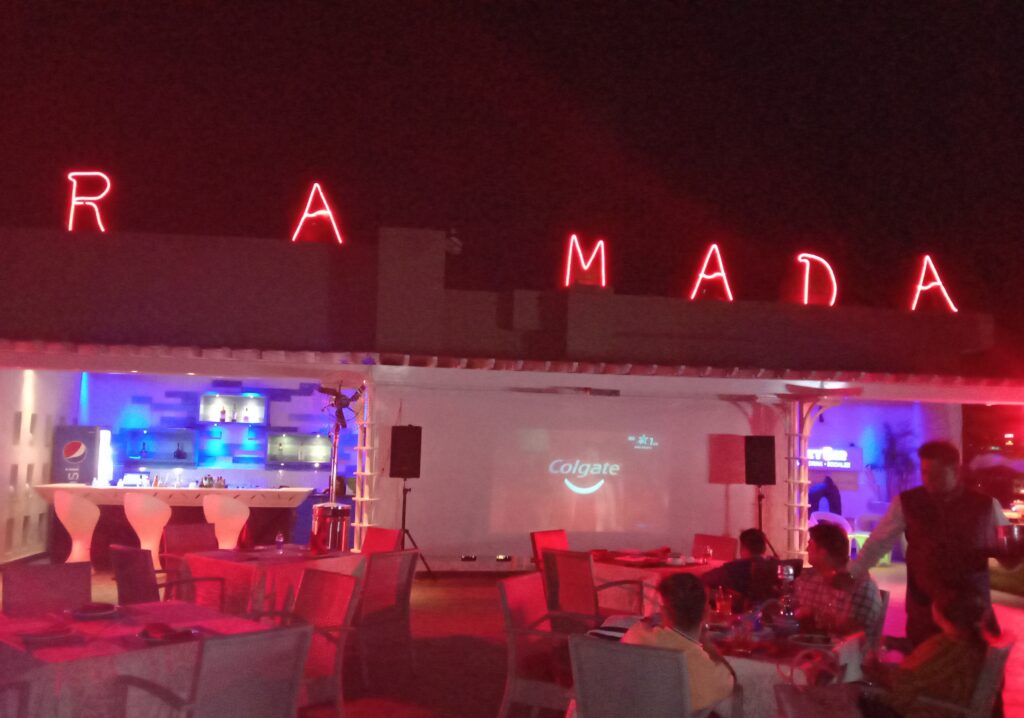 Food & Drinks
Their extensive drink menu ranges from fresh juices, mocktails and beers to cocktails, scotch, whiskey and fine wine. You can pair your drinks with their wide range of hookah flavours including paan, green apple, strawberry and orange.
Sky Bar offers a 3-course buffet dinner that includes a variety of vegetarian and non-vegetarian North Indian cuisines. The freshly-prepared snacks include your barbeque favourites served right at your table while you enjoy the romantic ambience. When we visited the place, it was a Football League season, so a projector screen was installed so people can cheer for their favourite teams.
The soup selection was vegetable, tomato and chicken soup. Main course included assortments of salad, yoghurt, rice, yellow and black lentil curry, mix vegetables, chicken, mutton and cottage cheese curries.
Everything was served with great hospitality. Naan and roti (Indian breads) were served fresh and hot right to our tables. The staff was on their toes to serve the guests.
I have a sweet tooth that made me drool over their dessert corner. The variety made it difficult to select what should I put on my plate. From the Indian sweets to cakes, pastries and mousses to fruits and fruit cream – there were numerous choices. Guess what, I didn't want to miss any of those and tried a bit of all.
The food was a treat to the palate and their variety makes sure you never leave the place hungry. You would rather leave with your stomach stuffed and your taste buds longing for more.
Good To Know Information:
Sky bar has an outdoor seating area, so visiting the place in peak summers is not recommended, considering Jammu has an extreme climate.
The place is couple and family friendly. We saw many families enjoying their dinner with the view.
The dress code here is smart casuals.
The place is Wheelchair Accessible.
Pets are not allowed.
Smoking is permitted here.
Swimming is not allowed in the pool at night.
During the day, the pool can only be accessed for swimming by the guests who are staying in Hotel Ramada.
Sky Bar is open everyday from 7:00 am till 11.00 pm.
The bar is within the reach of 15 minutes from Jammu airport and Jammu railway station.
Buffet Pricing:
The Vegetarian buffet will cost you 1000 per person and for the Non-Vegetarian it is 1200 per person. This is exclusive of the applicable taxes. Every penny we spent here was completely worth it and given a chance, I would love to enjoy another laidback evening here.