Siam Niramit Phuket – A Cultural Experience
If you love places that provide heady cultural doses and an insight into the fascinating history of a place, Siam Niramit is something you should not miss in Phuket. The show cum cultural sight introduces you to the untouched aspects of Thai culture. Whether it is related to Thai village life, traditional Thai food or the fascinating history, culture and traditions of the glorious Siam Kingdom – Siam Niramit is where all these facets come to life.
When we booked for Siam Niramit show, I didn't know there was so much more than the show and it would be a complete dip in the sea of culture and a centuries old rich history. As we reached the entrance gate three hours before the scheduled show time, we were greeted by traditionally dressed performers. We clicked some pictures with them and entered the Siam Niramit premises. There were some souvenir shops at the entrance and some white elephant structures – couldn't help clicking with them.
At a little walk from there, we saw a grand white structure of a dragon. It was a water fountain. There were a couple of elephants and you can click with them or go for a short elephant ride. Since we weren't much interested in elephant ride, we just clicked some pictures and moved on.
Thai Village
We headed towards the section of 'Thai Village' as we were more interested to explore the rich Thai culture. There were some statues lined in yoga poses at the entrance of Thai Village. There were also a variety of shops setting toys, souvenirs, decorative items and some games you can try your hands on.
The culture dose started getting high as we passed through those shops. We were transported to a traditional Thai village where we could experience the local life of the villagers. There were many traditional Thai style houses made of wood and bamboo sticks, and surrounded by greenery and water.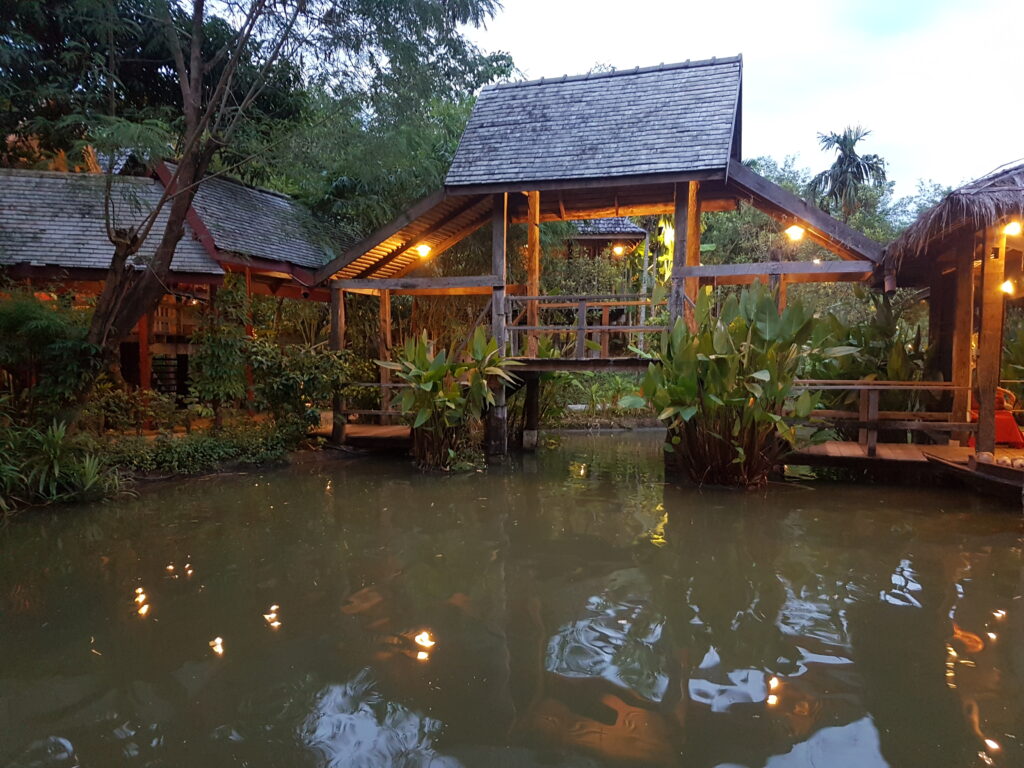 These houses were equipped with various items used in villages as well as the local homes of Thailand. There were hats, colourful fans and umbrellas, traditional clothes, dining furniture with traditional crockery, flower baskets, colourful fans and beautiful umbrellas of all sizes.
Kitchen items included utensils, tools for grinding spices and separating impurities from grains, and earthen pots. You can move around freely in all of these houses, touch or pick up these items and get clicked with them.
The best part was there was no 'Do Not Touch' sign anywhere. Everything was there for the tourists to see closely, touch and know more about the culture of the great Siam Kingdom. Also, there were floating markets as well as the boat rides you can enjoy. We checked out the Thai paintings section and got to know how they extract natural colours from the plants to make these traditional cloth paintings. We also learnt how Sericulture is done in Thai Villages – how silk is extracted from cocoons and transformed into a thread.
They also explained the life cycle of a silkworm – some reminders from my science class. We were also introduced to their traditional puppets and how they are made.
We even got to taste the authentic Thai snacks in many of these little houses at no additional cost. Not just that, they also explained how these snacks are made.
Considering the Thai Village theme, animals cannot be omitted from the facility. Apart from the elephants, there were buffalos, goats and fishes in a pond. You can click with them and even feed them. These animals symbolise the occupations of Thai villagers.
Open Air Culture Shows
As the evening light mixes with the darkness, the night comes alive with carnival style games that includes kickboxing, elephant processions, King's Parade and traditional dances in the open air. The dragon that we saw in the daylight started glowing at night with a beautiful show of changing coloured lights.
Siam Niramit Thai Village provided a great insight into the food, culture, lifestyle and occupations of the Thai villagers. It's important you keep your camera fully charged and with a lot of memory when you visit this attraction. You may want to click more and more pictures here.
Dinner
After exploring the Thai culture in Siam Niramit Thai Village and enjoying the open-air performances, we headed towards their restaurant to try some lip smacking Thai flavours. It is a buffet dinner generally included in your ticket price.
The buffet included a wide variety of Thai, Chinese and continental food with a choice a vegetarian and non-vegetarian menu. I tried a lot of Thai flavours, however, I was too hungry to click all of them. Here's a picture of traditional Thai chicken ball soup with fresh vegetables, Thai spices and condiments. Also, the desserts included sticky mango rice, pastry, chocolate cake and sweet sticky rice. Sticky rice is a famous delicacy in Thailand. So, don't miss on it when you're in the country.
Post dinner, we headed towards the famous Siam Niramit show. We were greeted by these five muses on the way to the theatre, post which we had to submit our camera as no photography is allowed in the theatre. You can keep your phone with you but do not click pictures.
The Siam Niramit Show
The show was surprisingly spectacular and as we were seated in the 2000 seater theatre, the vibrant backdrops of the stunning sets and the excellent performers in lavish costumes left us spellbound. The show started with the narration of the history of Siam Kingdom accompanied by folk dances, traditional music and special effects. It moved on to depict a peasant's life, changing eras, local customs, religious practices, joyous Thai festivals and Karmic beliefs. The show also depicted the spiritual realms of Heaven, Hell and the Himpaan Forest.
According to Thai beliefs, Himpaan forest is a place between Heaven and Hell, where mythical creatures exist. We also had a glimpse of some elephants and goats during the show. There were also some jaw dropping aerial acts and stunning performances in water symbolising the glorious Chao Phraya river. Siam Niramit is performed by over 150 dancers and musicians with over 500 costumes used and it is one of the largest shows in the world.
After the show, we got an opportunity to click with different dance groups who performed in the show. They stand in different groups and you can simply click their photographs and even get clicked with them. There is no mandatory charge for the click, however, they have a donation box where you can donate at your own will.
You can also buy nicely framed souvenir photographs at 100 Baht ($3 approx). We loved the souvenir photograph and decided to buy it, as they say, collect memories, not things. Overall, Siam Niramit is an experience I would strongly recommend anyone visiting Phuket.
Tips
The Siam Niramit show starts at 20:30 hrs, however, the facility opens at 17:30. It is recommended to reach the premises at the earliest as you will require this much time to explore the facility and finish your dinner.

You'll be required to do a lot of walking to explore the entire facility. So, it's better to wear comfortable shoes.

Pre-booking of tickets is recommended to avoid queues.

The price of the show varies with the inclusions you make and the seat types you select.

You may include or exclude buffet dinner/hotel pick up and drop, and select from Platinum, Gold or Silver seat category. We paid approx. $80 per person that included buffet dinner, hotel transfers and the show price with Gold seats.