Apsara Dinner Cruise Bangkok
Apsara Dinner Cruise by Banyan Tree is one of the best ways to enjoy a romantic evening in Bangkok. The cruise combines the magical experience of sailing on the city's most spectacular Chao Phraya river with a feast of lip smacking flavours of traditional Thai food -everything set in a dimly-lit romantic ambience.
The Apsara riverboat is constructed from a vintage rice barge. The cruise starts from Bangkok River City shopping complex where the front desk will help you with your selection of food (vegetarian/non-vegetarian) and wine. Wine or any other alcoholic drinks are not included in the dinner package and can be purchased at an additional cost at the front desk only. All these selections are made approximately 30 mins prior to the boarding time.
As we boarded the 'Apsara' vintage riverboat, we were warmly greeted by the staff in a traditional way. Saying 'Sawadee Kha' (women) and 'Sawadee Khap' (men) with folded hands is a traditional Thai way of saying hello. We were seated near the window where the cool tropical breeze brushed through our hair and the shimmering beauty of the Bangkok's skyline mesmerised us. Welcome drink was served at the table, accompanied by a wet towel. I liked the way they decorated it with an orchid flower for that aesthetic touch.
I loved the decor of the riverboat – vintage furniture, classy t-lights on each table and red lanterns hanged at the corners – everything dimly lit. The soft background music added to the romantic charm of the evening. Moreover, there was also a magical world around us. Bangkok looks absolutely enthralling at night with its glistening skyscrapers and shimmering temples.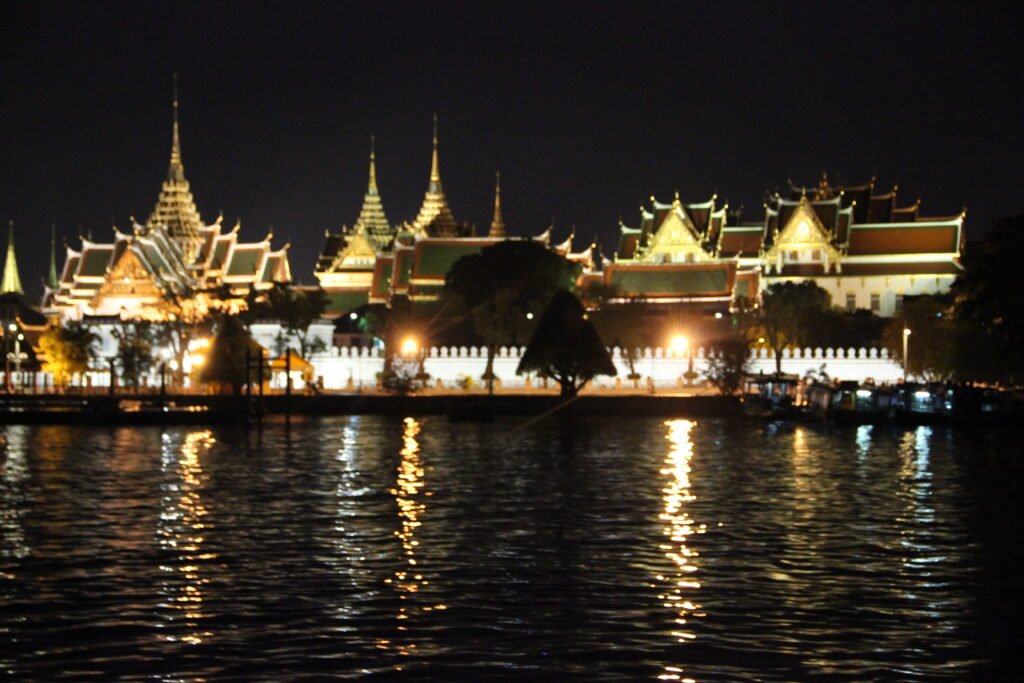 All this is combined with their freshly prepared four-course meal that includes delicious snacks, elegant soups, rich Thai curries and delectable desserts with a choice of vegetarian and non-vegetarian menu. We opted for non-vegetarian menu that excluded the seafood as I'm allergic to it (except fish).
We were served rice crisps with sweet chilli sauce, chicken satay, vegetable salad and a couple of other Thai snacks. One of the weirdest and interesting dish was an orange slice stuffed with minced chicken, it tasted delicious though. This was followed by a hearty mushroom and chicken soup. The white wine we ordered at the front desk along with all the meals was served right there at our table.
The staff briefed us about the name of each dish, as well as the ingredients in it and a little bit about its preparation method. Quite amusing to know about food and flavours of a new country.
Our main course included grilled fish and fried eggs in Thai sauce, Thai chicken curry, chilli chicken, Asparagus, vegetable salad, flatbreads and boiled rice. I like the way they packed boiled rice in banana leaf and decorated it with an orchid flower.
Post dinner, we were served fresh fruits and vanilla ice cream with some sweet corn. This was followed by some authentic Thai sweets. Everything was absolutely delicious.
Food and travel are so connected. I always prefer to opt for such experiences. It's quite interesting to try authentic cuisines from different parts of the globe.
The best thing about Apsara Dinner Cruise is their world class hospitality. All their guests get personal attention. The staff offers to click pictures for all guests with their camera. Also, they gifted all of us with a souvenir photograph.
After the cruise ends, the staff also helps you with the drop. They would call a taxi for you and even drop you at the nearest location to your hotel in their own staff bus. Their hospitality is really commendable.
Apsara Dinner Cruise by Banyan Tree is a two-hour luxurious and romantic experience. The vessel is smaller than other dinner cruise vessels in Bangkok, however, if you are looking for a more personalised experience, Apsara perfectly fits in that category. The cost of the cruise including their four-course meal is approximately $90.00. The experience is well worth the price.